Aldi Launches a New Perfume Collection (Nope, We Aren't Kidding)
Shoppers around the world know Aldi as a popular budget experience. However, as inflation continues to take hold, many families shop for groceries more selectively.
Understanding its place in budget shopping, Aldi added a perfume line to its products. Yes, Aldi, a grocery store, now sells a budget perfume line.
But wait, there's more (of course there is).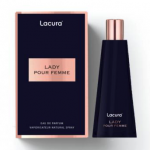 The Lacura Lady Pour Femme and Lacura Atom are two of the perfumes you'll find on the shelves of Aldi. Aldi's beauty brand known as Lacura typically sells experiences for huge markdowns. Even better, Aldi's Lacura is cruelty-free in its production process.
Lacura Lady Pour Femme is inspired by Carolina Herrera's Good Girl.
Overall, Aldi's beauty brand, fragrances, and otherwise offer consumers an awesome way to get top-of-the-line knock-offs for economical pricing.
What's bad? These Aldi perfumes are only available in the UK for now. Hopefully, that changes for those of us who live stateside. What's worse? These perfumes sell out online as fast as they arrive.
Popularity in perfumes continues to surge following COVID-19 economic shutdowns across the world. Many people found ordering perfumes and perfume samples online a therapeutic experience.
Budget perfume shopping is on the rise. People are looking for price-friendly options that emulate designer experiences. And major brands are appeasing these needs.