The Armani Code Review You Need Before Purchasing
Armani isn't simply a global fashion icon, it's a statement. In fashion, Armani rules the herd as one of the most recognizeable brands in the world. And such recognition and success extends into Armani's perfume line. Today, we will review Armani Code, a well-known fragrance installation. Is it time to spice your life up with Armani Code?
The answer lies within the confines of our Armani Code review.
Armani Code Review – About The Fragrance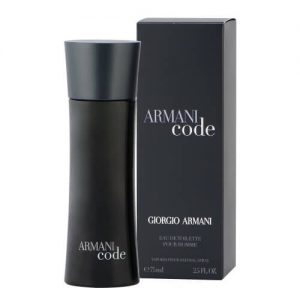 The Armani brand pays extraordinaty attention to all facets of its products. This includes the packaging. For Armani Code, as you can see pictured above, the box is sleek, black, and mysterious. While not everyone appreciates reviewing a fragrance's packaging, we feel it's an important first step in the perfume's overall curb appeal. Many people gift perfumes, including beloved perfume samples, so the packaging matters. In Armani Code, we find packaging that embraces a deeply masculine appeal. This isn't lumberjack, strong woodchopping man packaging. This is packaging geared towards the man of mystery in your life.
In 2004, Armani Code is launched after Antoine Le crafts the scent. Le lived much of his childhood in Strasburg, France but then traveled away to Grasse where he learned chemistry. He later found himself working under famed nose, Jean Guichard.
By 2006, Armani Code found itself the 2006 Fragrance of the Year Men's Luxe. Pretty impressive for a 2-year-old scent. Certainly, the Armani brand evokes a trust sentiment; but it remains an impressive feat.
Armani Code Samples
We carry Armani Code samples for those wanting to only put their toes into this fragrance. You can gift perfume samples such as Armani Code, as well. Because Armani Code is a bit on the spicier side, sometimes a sample helps you better understand if this fragrance works with your real life. Remember, real life isn't walking around a mall; its sitting in an office and attending a work dinner that night. The circumstances of your life can dramatically affect the way a fragrance lifts from your skin. In other words, it may smell different depending on what activities you are partaking in.
What Does Armani Code Smell Like?
Armani Code is considered an amber spicy fragrance. At the top notes, we find lemon and bergamot. This is where you'll get that initial citrus, spice pop in the opening. In the middle, we discover star anise, guaiac wood, and olive blossom. In the base notes, expect tonka bean, tobacco, and leather.
Although Armani Code is for men, many do feel this amber spicy scent works for females as well. It's a warm scent that wraps around you, particularly on cool autumn nights. There's also a bit of a Christmas tree thing going on that makes it excellent during the holiday seasons. The opening spice does not overwhelm, rather, it trickles into your life like a warm blanket.
The dry down may feel a bit like Midnight in Paris.
This is a classy, elegant, yet strong scent. We can definitely see how it could work unisex. We classify Armani Code as a wintry, or cool weather fragrance.
Armani Code Commercials, Advertisements
Actor Chris Pine is the face of Armani Code in a series of "Bond like" sexy commercials. All commercials feature Pine entranced by a girl far away. And she is just as taken by him. If you dig Chris Pine, you're in luck.
Final Notes
Armani Code is an amber spicy men's fragrance, but many people feel it's more a unisex experience. The opening hits you with lemon and spice immediately, but it does not overwhelm. We carry Armani Code samples for those not interested in buying an entire bottle.