Bal d'Afrique Review – Does This Tropical Fragrance Pass The Smell Test?
In today's Bal d'Afrique review, we deep dive into one of the most popular women's perfumes on the market. Why is there so much buzz surrounding Bal d'Afrique, and should you buy it? Or would you be better off picking up a Bal d'Afrique sample, or maybe just passing entirely?
As usual, we'll give you all the details to make an informed fragrance decision. 
Bal d'Afrique Review – Let's Get Started
In 2009, a Swedish company named Byredo launched Bal d'Afrique. Byredo says that Bal d'Afrique's inspiration was late 1920's Paris, where African art and music ran rampant. Bal d'Afrique symbolizes the cultural freedom that many felt during this period.
Byredo is known both for its unisex scents and its minimalist packaging. True to form, Bal d'Afrique packaging is relatively simple, and it's a unisex perfume. Bal d'Afrique is known as one of Byredo's top fragrances, with Gypsy Water often cited as the best of the bunch.
Here's a look at Bal d'Afrique's bottle and packaging.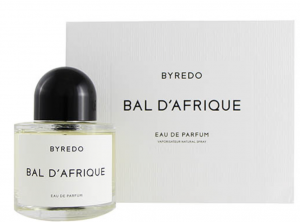 What Does Bal d'Afrique Smell Like?
Bal d'Afrique is considered an amber woody fragrance. Amalfi lemon, tagetes, and black currant hold down the top notes. Jasmine, Cyclamen, and violet roam the middle notes. The finishers are Virginia Cedar, Vetiver, and Amber.
Bal d'Afrique is a highly vibrant and passionate scent. While it's a warm fragrance, it's perennial in a sense you can wear it all year round.
With your initial spritz, you may pick up on cedarwood. Within a half-hour, expect the fruity tropical notes to fill in. The orange blossom can be particularly strong in warmer environments.
Bal d'Afrique exudes a tropical, fruity scent, which can at times overwhelm the base notes. And that's fine so long as that's what you desire.
How Long Does Bal d'Afrique Last?
With a mere two spritz, expect Bal d'Afrique to last all day and into the evening. Bal d'Afrique is a high-quality, long-lasting fragrance that rivals many other top-ranked perfumes.
Bal d'Afrique Commercials, Advertisement Campaigns
Byredo channels African culture in its Bal d'Afrique commercial, though I'm not sure this commercial aired in many places. In other words, there is little evidence that Byredo marketing invested a lot in ad placement.
Final Notes
Bal d'Afrique is a top women's perfume, but it is also unisex. It's more of a fruity tropical experience, particularly when in warmer weather or climate environment. For Byredo, Bal d'Afrique is one of their top creations, and it's a pretty big seller. Bal d'Afrique will last you throughout the day and then some with only a couple of spritz.
You can pick up Bal d'Afrique samples here if you don't want to risk buying an entire bottle.