Coach for Men Review: Should You Buy This Fragrance?
Coach for Men is a popular men's fragrance. In our review, we will look at how Coach for men smells, it's marketing and advertising, and how long it lasts. None of that should be a surprise, given, it's a review. What else would you expect us to discuss?
I'll tell you this up front, Coach for Men is a beloved fragrance that rarely receives poor reviews. And we'll not buck the trend. Moreover, we have Coach for Men samples, just scroll down for the link.
Let's get going.
Coach for Men Review: The Basics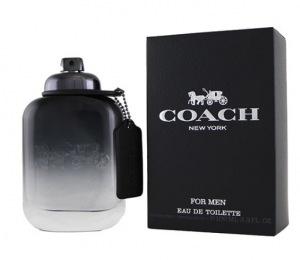 Coach is a leading fragrance and attire brand all over the world. Started in the 1940s, Coach has dominated the market as a luxury accessories brand that focuses on quality. As a brand, there aren't many more recognizable than Coach. Due to this, any fragrance Coach launches is bound to receive instant attention. But even name brands can't overcome poorly crafted fragrances. Eventually, the reviews and word of mouth takes the drivers seat. In the case of Coach for Men, the presiding opinions have been very good. In other words, Coach for Men isn't riding it's big brand coattails; rather, it stands alone.
We should mention, we are reviewing Coach for Men, not Coach for Men Platinum. The two are often confused because Coach advertises them in tandem as you'll see below.
Coach for Men was launched in 2017. Perfumers Anne Flipo and Bruno Jovanovic crafted Coach for Men as a free-spirited, masculine, sexy concoction. As you'll seen below in our notes section, Coach for Men is a woody scent, a concept both Flipo and Jonanovic intended.
Coach for Men Samples
Indeed, we have Coach for Men samples in stock most of the time. Just click the link. As you'll see below, Coach for Men passes our review test, but in the end, a bottle will cost you near $60. You can grab one of our perfume samples and test it out, which lowers your risk.
What Does Coach for Men Smell Like?
As mentioned, Coach for Men exudes a woody aroma. And that's not by accident.
Flipo and Jonanovic leveraged amberwood, Haitian vetiver, suede, and ambergris in the base notes. At the top, we find fruity notes such as pear and grapefruit, alongside lavender, kumquat, and bergamot. The middle notes consist of geranium, coriander, and cardamom. Some compare Coach for Men to Sauvage Dior or Versace Dylan Blue.
Coach for Men is a perennial scent that can be worn any time of the year. There's a musky, woody affect that remains throughout, though first spritz reveals the fruity top notes which tend to fade over time. The fruity notes layer in a freshness that yields a clean vibe. You almost catch a grape scent at times. Coach for Men is pleasant and playful, yet offers a sexy depth. You'll hardly offend anyone wearing it.
Even better, Coach for Men tends to last at least 8 hours. If you apply in the morning, most likely, you'd need to reapply for your dinner event.
Advertising, Commercials
Coach for Men leverages the sexy prowess of actor Michael B. Jordan in its big campaign. He's the perfect face of a fragrance that aims to exemplify charm and mystique. The Coach for Men commercial is inspired by all-American dreamers and shoots much like a top Hollywood production. The racy, sexy appeal to this flick is undeniable and well represents the fragrance. Coach displays both Coach for Men and Coach for Men Platinum in the commercial. The previous face of Coach for Men was James Franco.
Final Notes
Coach for Men is a wonder, inoffensive, popular fragrance for me. Its woody musk is complimented by a soft fruity experience. This fragrance will last you all day. Yes, we have Coach for Men samples. However, if you've previously enjoyed works like Sauvage Dior, Bleu de Chanel, or Invictus, you will probably enjoy the full bottle of Coach for Men.