Valentino Uomo – Should You Buy This Men's Fragrance?
People often wonder whether or not they should try a sample of Valention Uomo, or just go for the bottle? Our Uomo review can help resolve this matter in lightning speed. That may well be an exaggeration, but I believe you catch my drift. Our review will look into Uomo cost, what it smells like, how long it last, and heck, is the bottle design worthy?
That's a lot of information, but trust me, we'll get into fast and you'll have a better idea if you want to grab a Valentino Uomo sample online, or opt to buy the bottle.
Valentino Uomo Review – What's It's Story?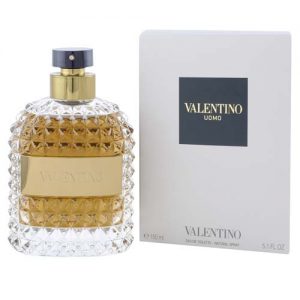 Valentino is a world renowned Italian luxury fashion brand. Founded in 1960 by Valentino Garavani, the brand has catapulted into one of the most successful and iconic fashion brands in the world. But what about Valentino perfumes? Since the 1970s, Valentino has released a number of fragrances that have captured popularity. However, fragrances aren't the company's focal point and Valentino remains largely known for luxury fashion.
Valentino released Uomo in 2014, making it one of the brand's newer fragrance releases. Valentino, who has worked iwth Puig since 2010, aimed to craft a classic fragrance in Uomo. And they pulled out all the stops to do so using perfumer Olivier Polge. Polge has an illustrious career attached to his name, particularly as the perfumer of Chanel for 37 years. He's the nose behind Chanel's No. 5 L'eau.
Valentino Uomo Samples
You can typically sample Valentino Uomo at a Sephora or other stores which carry the fragrance, however, you are far better off snagging an online Uomo sample. Remember, a store sample means you wear it out and into the mall. An online perfume sample means you wear it for your actual life. Perfumes tend to change in different environments.
What Does Uomo Smell Like?
First off, Valentino Uomo is a traditional leathery fragrance. You must enjoy the deep tones of leather to want to wear Uomo, or to buy this for the man in your life. The top notes are bergamot and myrtle. The middle notes feature chocolate, coffee, and hazelnut. The base notes are leather and cedar.
The chocolate is a prominent feature of the Uomo opening, but the leather and cedar eventually take hold. This is a spicy, fall day, or even winter day's, wear. The leather really plunges through so be prepared. Uomo is a strong, masculine scent.
Uomo in Commercials, Media
Valentino leveraged the distinct sex appeal of Louis Garrel in their Uomo commercials. The French superstar actor known for his role in The Dreamers is paired along side a model in a classic 300sl Cabriolet. The nighttime streets of Rome have never looked so amazing (well, that's probably not true, but you get it). So much romance in this Uomo commercial it just takes the breath away.
Final Notes
Valentino Uomo is a potent leathery, winter fragrance. A full bottle will run you near $90, which isn't bad for a premium mens fragrance experience. However, we carry online perfume samples and our Uomo is in stock, so feel free to try it out. Perfumes are subjective, samples certainly help curtail any apprehension before investing in a full bottle.