Vera Wang Princess Review – Can Adults Wear This?
Vera Wang's illustrious career in fashion is hardly rivaled. She became the youngest editor in Vogue history, she took on an advisory role with Ralph Lauren, and she's reigned as the queen of bridal gowns for years. In 2006, Vera Wang entered the perfume space with her Princess perfume. In our Princess Perfume review, we will look at her fragrance creation and help you decide if it's right for you. 
Vera Wang Princess Perfume Review – Let's Get Started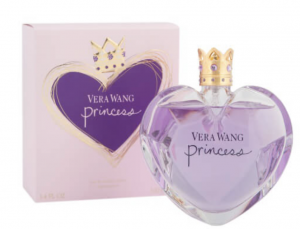 While Vera Wang's name is branded across the Princess bottle, Ilias Ermenidis and Harry Fremont deserve credit as the perfumers who crafted this successful women's perfume. Fremont alone is credited for several highly successful fragrances for the likes of Ralph Lauren, Estee Lauder, and even 50 Cent.
Wang's Princess perfume captures the essence of femininity. It's youthful and energetic. Princess perfume's elegance begins with its heart-shaped bottle design and continues on into the aroma. Wang's keen eye for fashion and taste are unmistakable hallmarks of Princess perfume.
Vera Wang Princess Perfume Samples
Indeed, we carry Vera Wang Princess Perfume samples. It's never a bad idea to try a perfume sample as opposed to "going all in."
What Does Princess Perfume Smell Like?
Princess perfume is considered an amber and floral-inspired fragrance. Using apricot, apple, and water lily as top notes, the tinge of fruity can't be denied upon the first spritz. This is quickly offset with middle notes using guava and dark chocolate. Eventually, the base notes of amber and vanilla rise up.
Some may feel Princess perfume is a little boring and lacks that "splash moment." That's fair. But the subtlety aspect of Wang's creation lends itself to elegance. Princess perfume is a powdery and chocolaty experience, as well. There's something rather deep and authentic about it.
I'd say Princess perfume, as the name suggests, is a young perfume. I'm not sure it's teen-exclusive, but its market hovers in the younger female demographic. Negative reviews often derive from those in a more mature market. Therefore, it's important to assess a perfume on its intention, much like you would review a car or laptop. In other words, Princess perfume is a teen fragrance for the most part.
How Long Does Princess Perfume Last?
A few hours, nothing notable.
Princess Perfume Commercials, Marketing
The Princess perfume commercials pushed a teen-oriented fragrance concept, but that's to be expected given its demographic.
Final Notes
Vera Wang's Princess perfume is a teen perfume that's subtle and feminine. While it is a teen fragrance, I'm not sure I'd align it with other mall scents. If you are looking for a mature fragrance, I'd avoid this powdery and chocolatey fragrance. But overall, it is good for what it is.