Viva la Juicy by Juicy Couture – Read Our Review, Find Samples
Viva la Juicy by Juicy Couture remains a top selling perfume, though it's not nearly as popular as days of old. That said, it continues on as a staple in the perfume world. We'll review how Viv la Juicy smells, where you can find samples, and how long it lasts. Because perfume reviews and perfume samples is what we do. So stick around, let's talk fragrances.
Viva la Juicy Review – The Basics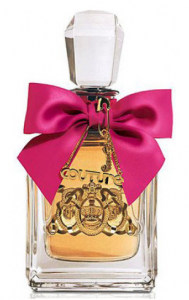 When discussing a Viva la Juicy review, it is difficult not to begin with the bottle. While we realize you don't wear the bottle, at the same time, product packaging is an impactful influencer for any fragrance. That's because sometimes we give a fragrance as a gift or appreciate how the perfume appears on our shelves.
The Viva la Juicy bottle features the usual bold Juicy Couture style we've come to expect. A lavender bow, pinned by a Couture bracelet, wraps the bottle magnificently. The bottle's top exudes a wistful perfume bottle design. It's not a throwback, but it heralds subtle beauty. 
Viva la Juicy offers a gourmet floral scent profile. It's part of a beautification package that includes body cream and lotion.
Viva la Juicy Samples
We currently carry Viva la Juicy samples. Simply click the link and you'll find the option to purchase a sample of this perfume. Perfume samples help you decide which fragrances fit your lifestyle. 
What Does Viva la Juicy Smell Like?
As a floral fragrance, Viva la Juicy features wild berries and mandarin at the top. In the middle notes, we discover an arrangement of gardenia, jasmine, and honeysuckle. The base notes offer caramel, vanilla, rhapsody, sandalwood, and pralines.
That's quite a floral arrangement. Each note has a place and a mission. Viva la Juicy delivers a peppy fruity smell right at the opening. It's a very sweet experience and sometimes a bit too sweet.
Its overly sweet scent seems unabated by the base notes, which can lend a bit of a tenny bopper scent profile.
Moreover, Viva la Juicy doesn't last all too long, probably less than a few hours.
This isn't to say that Viva la Juicy doesn't have its place. It's a fruity floral perfect for those who want to make a sweet impression. You almost feel a bubblegum layer to the profile. It's not a shy scent, not even close.
Viva la Juicy in Commercials, Media
Juicy Couture is blessed with a large marketing budget, so it is no surprise that the company went all in on a Viva la Juicy commercial. The commercial features Victoria's Secret angel and South African model, Candice Swanepoel. She is undeniable stunning in the vibrant, kaleidoscopic whirlwind of a commercial.
Final Notes
Viva la Juicy is a fruity, playful women's perfume that features a gorgeous bottle design. For some women, the intense sweetness may feel a bit too youthful. But for others, it compliments the environment. It's more of a summer scent, but people wear it all year round.