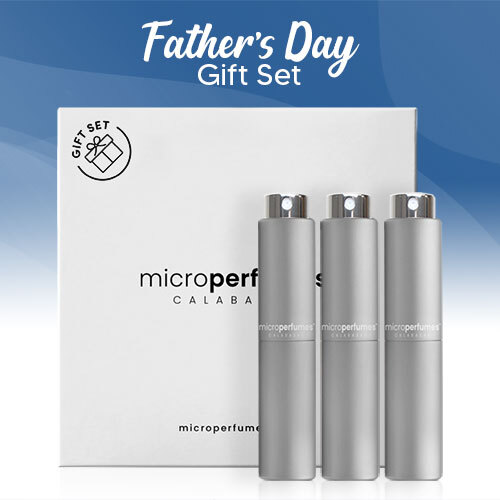 Click For Full Size
Father's Day Gift Set - Chanel, Creed, & Versace
So you want to spoil your dad or husband but are not quite sure where to start? This expertly curated Father's Day Gift Set will be a delight for dad and anyone around him on his special day. Featuring three powerhouse scents that can fill a room and turn heads, this gift set is an easy choice for anyone seeking the perfect gift for Dad.
Price:$69.9715% OFF - Click here
Secure Transaction & 100% Authentic - Guaranteed All sample & travel size products are rebottled by PVI without the authorization of the brand owner. Sold & shipped by: MicroPerfumes
MicroPerfumes.com is owned by Perfume Ventures Inc (PVI), Calabasas, CA 91302, a wholly independent and separate entity from the manufacturer or brand owners of the designer fragrance. The sample and travel size products sold on MicroPerfumes.com contain genuine fragrance and are independently rebottled and repacked by PVI. PVI is not associated with the designer, or the designer's manufacturer in any way, and has no agreement, license, consent or arrangement authorizing the rebottling or repackaging of the fragrance. Please visit our Terms of Sale for additional information or Contact Us for customer service.
GOOD THINGS COME IN THREES
3 Travel Sprays for $69.97
Versace Eros
Eros is the fragrance that interprets the sublime masculinity through a luminous aura with an intense, vibrant and glowing freshness obtained from the combination of mint leaves, Italian lemon zest and green apple
Versace, Eau de Toilette, Introduced 2012
Fragrance Notes: Vanilla, Tonka Bean, Mint, Lemon, Green Apple, Ambroxan, Cedar, Geranium, Vetiver, Oakmoss
Recommended Use: Casual
Creed Aventus
Creed Aventus is one of the most complimented men's colognes of our time. It's fresh, fruity, rich, long-lasting, and versatile for any occasion. It's a sophisticated and elegant scent that has notes of pineapple, black currant, birch, amber and musk. It's sexy and seductive, strong and powerful, a scent that has it all! Some go even as far as saying Aventus is a perfect 10 out of 10 and consider it the best men's cologne of all time.
Creed, Eau de Parfum, Introduced 2010
Fragrance Notes: Pineapple, Birch, Red Apple, Black Currant, Musk, Oakmoss, Bergamot, Amber, Patchouli, Jasmine, Vanilla, Rose
Recommended Use: Casual
Bleu de Chanel Parfum
Bleu de Chanel by Chanel is a Woody Aromatic fragrance for men. It's the so-called king of "blue" fragrances. It will draw your date right in with exciting notes of grapefruit, soothing lavender and enticing labdanum. It's truly a masterpiece that can be worn in virtually any situation.
Chanel, Parfum, Introduced 2018
Fragrance Notes: Sandalwood, Cedar, Lemon, Bergamot, Mint, Lavender, Artemisia, Geranium, Pineapple, Amberwood
Recommended Use: Casual