Hypnotic Poison by Christian Dior Review: A Legacy Dior Fragrance Worth Trying?
How could anyone not feel some curiosity in a Hypnotic Poison review? What sounds like a 90s Hip Hop song is a quite popular Christian Dior women's fragrance.
Now that we've peaked your attention let's get down to the nitty-gritty of this perfume review. If this fragrance interest you, we have Hypnotic Poison samples available.
Hypnotic Poison Review: Let's Get Started
Perfumers Annick Menardo and Christian Dussoulier helped bring Hypnotic Poison to the masses in 1998. No surprise, the Hypnotic Poison name certainly has that 90s ring to it. 
Yeah, I went there. Don't act as if you weren't thinking it.
Like any Christian Dior fragrance, Hypnotic Poison has much fanfare. But it is an older perfume, which lends the question, does Hypnotic Poison stand the test of time? How about its smell?
Although sometimes the name confuses people, Hypnotic Poison is a women's perfume.
The Hypnotic Perfume bottle is a bit of a cheezy play on a sexy apple (can apples be sexy?).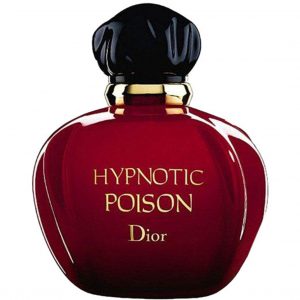 What Does Hypnotic Poison Smell Like?
With a name like Hypnotic Poison, one should expect… I don't know what to expect!
The top notes are Apricot, Plum, and Coconut.
The middle notes are Jasmine, Caraway, Tuberose, and Brazilian Rosewood.
The base notes are Sandalwood, Musk, Almond, Vanilla.
So how do all these perfume notes play out?
Oddly, there's an expectation that Hypnotic Poison is a cheesy, synthetic fragrance. This is because of it's 90s vibe. But instead, Hypnotic Poison transforms itself from a playdough initial smell into something soft and creamy.
Yes, the initial spritz has that playdough scent which can feel rather synthetic. But this does not last. Within minutes, an Almond Vanilla cream scent subtly rises from the skin. So for those who judge Hypnotic Poison from the initial spritz, you may be missing out on a pretty good perfume.
How Long Does Hypnotic Poison Last?
Hypnotic Poison lasts a full day and should impress even seasoned perfume buyers.
Commercial Marketing
Hypnotic Poison marketing focuses on that whole desirable apple theme. A sexy girl lust after the bite of an apple in a dark setting. It's very… yeah… hypnotic.
There's a trance 90s vibe that's almost impossible to turn away from. Fortunately for all of us, the Dior Hypnotic Poison commercial is only 45 seconds in length.
Final Notes
While Hypnotic Poison's name implies a cheesy experience, this perfume is surprisingly fun and sophisticated. After a bit of synthetic start, the middle notes carry an Almond Vanilla cream. Hypnotic Poison is a wintery fragrance perfect for cold days and hot cocoa.