Delina by Parfums de Marly Review: Good, But Is It Great?
Hey, welcome to our Delina by Parfumes de Marly review. Get cozy; we intend to break down Delina perfume so you can decide if this perfume is right for you. Or if you should take a step back and begin with a Delina perfume sample, rather than splurging for the whole bottle.
So go top off your coffee, kick back, and get ready to read this perfume review. I'm kidding; we don't take ourselves that seriously. We know you are probably skimming this Delina review on your phone, and we are FINE with that!
Delina Perfume Review: Getting Started
Perfumer Quentin Bisch helped launch Delina back in 2017, and since then, it's been a rather popular perfume. It's considered a women's only perfume that's youthful and long-lasting.
Delina's bottle is a soft, curvy, pink feminine design.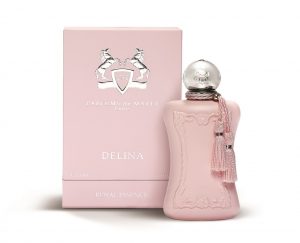 So what else?
What Does Delina Perfume Smell Like?
Delina perfume's scent is a complex sweet and sour experience. That's what makes it unique.
Its top notes, officially, are nutmeg, Bergamot, Litchi, and Rhubarb. But it's the middle notes which hold Turkish Rose, Vanilla, and Peony which shine through. The Turkish Rose is a dominant scent in Delina perfume.
Delina's base notes are Cashmeran and Cedar.
The rose in Delina is very upfront but not overwhelming. I suppose in the end, it is difficult for a rose scent to overwhelm anyway, so there's that. The rhubarb base fills in for the long ride, which can polarize people. Some people simply don't prefer rhubarb. That's OK, friends.
You are almost certain to catch a Cedar, musky base as well.
The initial Delina spritz reveals itself as notably tart.
Delina perfume tries to conjure up a sexy spirit for the sophisticated, modern woman. However, it is not so youthful that you'd classify it as a teen fragrance, mainly because you don't catch too many sweet or fruity notes. That said, Rose, in general, feels very "vibrant woman."
There's a lot of Delina haters out there that feel this perfume can't compete with the top women's perfumes. At least enough to not list it on our top women's perfume list, we somewhat share this sentiment.
Delina is also considered a pricey perfume, so we recommend starting with a sample.
How Long Does Delina Perfume Last?
Delina perfume lasts upward of 10 hours, which is insanely good longevity for any fragrance. If it hits or rubs off on your clothes, you might smell Delina for days following.
Commercial Presence
Nothing notable.
Final Notes
Delina perfume initial spritz is a tart, sour experience, but it transitions into more of a rhubarb must over time. Delina is considered pretty pricey, and its scent tends to polarize people (they either love it or hate it).