Azzaro Wanted by Azzaro Review: Cost, Smell, and Samples
Azzaro Wanted is a somewhat popular men's fragrance that's sexy advertising fits nicely with it's woody notes. We will look at how Azzaro Wanted smells, what it costs, and how it advertises its product to the masses. We will also look into its packaging and whether or not its a good gift idea for the special man in your life. Let's get to our Azzaro Wanted review, shall we?
Azzaro Wanted Review Basics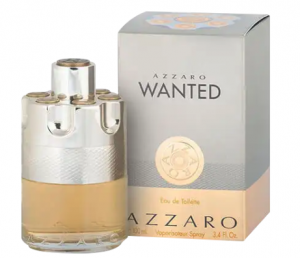 First and foremost, if you aren't one for perfume reviews, don't sweat it – we have Azzaro Wanted samples in stock that allow you to try this fragrance without breaking your bank. That said, a retail bottle comes in at under $45, so even if you opt to purchase a full bottle, you don't risk too much.
Speaking of the bottle, Azzaro Wanted is packaged in a silver and gold box that's both sleek and refined. The gold seal gives the packaging an official look. The bottle design is as unique as any in the fragrance industry, leveraging a steel revolver chamber look. The Azzaro Wanted bottle design is as masculine as any in the industry. This makes it a great gift for the special man in your life. It's a sexy open, no doubt about it.
Created by famous perfumers Olivier Cresp and Fabrice Pellegrin, Wanted was launched in 2016 and its held a strong position in the market ever since.
What Does Azzaro Wanted Smell Like?
At the top notes, Cresp and Pellegrin used lemon, lavender, mint, and ginger. In the middle, they deployed juniper, apple, geranium, and Guatemalan cardamom. Wrapping things up at the base, we find tonka bean, Haitian vetiver, and amberwood.
Before you decide to take the dive with Wanted, understand, the opening is sour. If you don't prefer that, Wanted isn't for you. For those who enjoy a sour, bubbly pop in their fragrance openings, keep reading.
Wanted gives off the fresh vibe without being antiseptic in profile. There's not a ton of projection making it a bit more subtle. And its potency reaches max appeal in a few hours and then last several hours to follow, which is great considering Wanted is an economic buy. Some say it smells like Invictus, but that's debatable.
The ginger and lemon notes make themselves known throughout the Wanted experience. We don't catch much of a synthetic appeal in Wanted, which is great. The fragrance does smell natural. There's a spicy pop to Wanted as well, which seals it's masculine experience. The spice is inspired by the ginger and lemon combination. In fact, the lemon and ginger dominate Wanted's experience throughout. And that's not a bad thing at all. In fact, you should know its what you are signing up for.
In terms of overall value, Wanted hits the mark. We dare say that Wanted is underrated when we consider price, packaging, and scent. Wanted is a great option for men looking for an economic bang for buck.
Azzaro Wanted in Commercials, Media
Azzaro Wanted commercials play a lot more like Bond trailers than they do fragrance ads. But that's the vibe Azzaro is most certainly going for, isn't it? A fleet of attractive men trotting down the steps of a modern building at dusk. Beautiful women's facades gracing against a classic car dusting up a parking lot. Azzaro Wanted commercials are high-quality and certainly leave you with all the sexy feels.
There is also a Most Wanted version of the fragrance that uses Jon Kortajarena as the face. In that commercial, we get the same feels. "He dares, he gambles," is the vibe Azzaro lends us in this 40 second clip. This is a luring coastal and nightlife experience. No, this review isn't about Most Wanted, but we felt it relevant to show how the Wanted advertising campaign has evolved.
Final Notes
Azzaro Wanted is a highly underrated fragrance that's both economical and masculine. The scent profile is lemony without being that of a handsoap. Lemon and ginger are impactful throughout the Wanted experience. Wanted is a highly manly fragrance that's a great gift idea given the "revolver" like packaging. At under $50 for a bottle and awesome packaging, Wanted can make a wonderful gift for a male love interest.