Nautica Voyage Review: Costs, Smell, and More
Nautica Voyage is a mens' fragrance that may be short on hype, but offers a lot of other redeeming qualities. In our Nautica Voyage review, we'll look over it's price, where you can find Nautica Voyage samples, and how it smells.
Nautica Voyage Review – Getting Started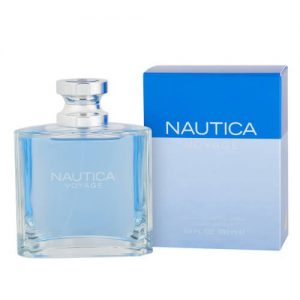 Maurice Roucel is the famous perfumer who helped create Nautica Voyage. It was subsequently launched in 2006. Roucel began his illustrious perfumer career in 1973. He's been at it for a long, long time, to say the least; and his experience in the field resonates in his often magnificent fragrance creations. He's currently the Head Chromatography Chemist at Chanel. Roucel has worked with a number of popular brands, including Adidas, Carolina Herrera, and Guess.
Nautica is a major fashion brand founded by David Chu in 1983. In 2021, Nautica was acquired by Izod. Its influence over the fashion industry is acclaimed and respected. Nautica is also a player in the fragrance world and uses its fragrances as an extension of its brand which tends to reflect a nautical, classy lifestyle.
If you aren't into reading this entire review, we have available Nautica Voyage samples. Fragrance samples are a great way to try out a scent in your real life. Although, as you'll learn below, a full bottle of Nautica Voyage isn't hyper-pricey. So it may be one of those things you simply take the risk on. But don't determine that yet, lets get into the review.
What Does Nautica Voyage Smell Like?
Nautica Voyage is a breezy, aquatic fragrance that uses apple and green leaves on the top notes. Roucel uses lotus and mimosa in the middle notes, and cedar, musk, oakmoss and amber in the base notes. Learn about base notes here. The combination results in an airy, coastal fragrance that can come off as beachy – in a delightful fashion.
Nautica Voyage is a casual fragrance that can be worn year round, though its often pitched as a summery experience. There's a cleanliness vibe to it as well, not everyone loves that aspect. It can, for some, feel very air freshner, particularly in its opening.
Nautica Voyage is often considered overhyped, although it is important to keep in mind that a full bottle runs at an affordable $21.99. That alone lowers your risk in giving Nautica Voyage a try, even if you don't want to opt for a smaller sample at first.
Another bad mark for Nautica Voyage is that it doesn't last long, maybe a few hours. This is, however, common for inexpensive fragrances. They may cost less up front, but you use more of it which results in buying more bottles. This ups your overall investment into the fragrance.
Nautica Voyage in Commercials, Media
The "let the voyage begin" features a backdrop of serene ocean views and sailing. The campaign encompasses what Nautica wants to convey about this masculine, yet sophisticated fragrance for men. The main face of Nautica Voyage, TV host Caster Oosterhouse, isn't featured in this particular commercial.
Final Notes
Nautica Voyage is a summery, fresh, woody aquatic experience. Maurice Roucel crafted the fragrance for men to reflect an oceanic, sailing sort of vibe. Some feel his attempt at such resulted in more of an air freshner scent. That said, a full bottle is super affordable, so it could be a result of less quality focus. Fragrances are a subjective experience and given Voyage's lower price point, you aren't risking much in trying it out.