Calvin Klein Beauty Review – a Popular Eau de Parfum
The Calvin Klein brand runs synonymous with affordable fashion. Its one of the most popular fashion brands in the world, commonly appealing to more youthful generations. While Calvin Klein isn't most known for its fragrances, it does offer them and many are good. Today, we'll review Calvin Klein Beauty, one of the brand's more intriguing fragrance plays.
In our Calvin Klein Beauty review, we'll go over it's smell, price, and whether or not there are sample available online (hint, there are). So let's get into this.
Calvin Klein Beauty Review – The Basics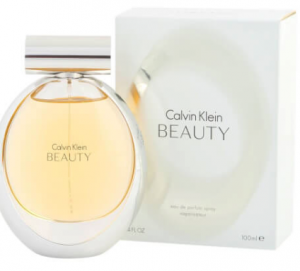 Firstly, as already mentioned, you find Calvin Klein Beauty samples here. Perfume samples can save you from losing cash by buying a full bottle of perfume and never using it. A perfume sample allows you to use the fragrance in your daily life to truly discover if it works for you. Now, we should state, a full bottle of Calvin Klein Beauty is an economic $26.99. So if you choose to purchase a full bottle, you aren't risking too much cash.
Calvin Klein Beauty is a floral fragrance that's built for women. It's about 13 years old having launched in 2010. Sophie Labbe created the fragrance. Sophie's illustrious perfumer career has produced some of the most famous fragrances available today, including fragrances under brands such as Nina Ricci, Salvatore Ferragamo, Ted Baker, and Versace. She has over 120 perfumes to her name and Calvin Klein Beauty is one of those. Her experience in the perfume industry is as immaculate as they come.
We like to speak to the nose behind the fragrance because, as is the case with Sophie, it gives us insight into the brand's attention to quality. Famous perfumers don't put their signature on fragrances they don't appreciate. For this reason, Calvin Klein Beauty is off to a good start.
Sophie is obsessed with floral, a statement backed up by not only her perfume history, but her Instagram which commonly features plants.
You often find Beauty in 30, 50, and 100ml sizing. It is often bundled with body lotion and sometimes a shower cream.
Although Calvin Klein often appeals to a younger crowd, Beauty is geared towards both younger and mature women. We'll get more into that in our smell section.
Also, the packaging is elegant to boot making it a great gift idea.
What Does Beauty Smell Like?
In the top notes, Sophie used Ambrette and nothing else. That's rare for a top note, but Sophie is a risk taker at heart. The middle note also simply uses Jasmine. And rounding things out, she uses Virginia Cedar at the base.
So with only three notes, what does Calvin Klein Beauty smell like?
Beauty smells very floral, which is obvious. But there's also a musk present that simmers the floral outwardness. Its a warm scent and the jasmine becomes more noticeable as the hours of wear go on. Beauty is extremely feminine at heart and lends itself to elegance, but its very wearable no matter what the occassion – even for work.
As a downside, some reviewers believe that Calvin Klein changed the fragrance since its launch in 2010. But given we don't hold an older bottle, it's difficult to say how true that is. Its also possible that noses change over time.
The big thing here is that Beauty smells pretty good given its economical pricing. Also, although Calvin Klein often gears its products towards youth, Beauty is worn by those out of that age range. Its a sophisticated floral scent perfect for a more mature woman.
Calvin Klein Beauty Advertising, Commercials
Craig McDean is responsible for the commercial campaign which features Diane Kruger. The commercial campaign, by way of Kruger draped in a gorgeous white gown, targets women who desire elegance. Kruger is a German actress and McDean chose Germany as the shooting location for the commercial. There's a sort of old school reel look to the commercial, whether that's intended or not we're unsure.
Final Notes
Calvin Klein Beauty is a bargain fragrance for women that's hardly a "cheap" experience. It smells wonderful and its very wearable no matter what the occasion. Its a wonderful gift for that special woman in your life. Calvin Klein Beauty is a great overall buy.