Bulgari Omnia Coral Review: Costs, Smell, and More
Italian luxury fashion house Bulgari has been around since the 1800s. They are well known for exquisite jewelry, watches, and leather goods. But they also create high-end fragrances such as Omnia Coral. Our Omnia Coral review breaks down a semi-popular women's fragrance that is ripe with floral, berry notes.
Let's have a look.
Omnia Coral Review Basics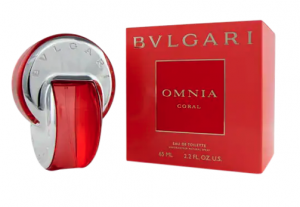 Bulgari launched Omnia Coral in 2012. Famous Spanish perfumer Alberto Morillas is the nose behind the sensation. Morillas is the master perfumer at Firmenich. He's created a number of famous fragrances, including Acqua di Gio and CK One. He's one of the most sought after perfumers alive today.
Omnia Coral is available in 25, 40, and 65 ml sizes. But you can also find Omnia Coral samples here.
Omnia Coral is often sold with a body lotion and body peeling product.
The unique packaging makes Omnia Coral is great gift idea. The beautiful reds surround the well-known Bulgari logo, but its curvy bottle design screams swanky from the rafters.
What Does Omnia Coral Smell Like?
Morillas uses bergamot and goji in the top notes. In the middle, you'll find pomegranate, water lily, and hibiscus. The base notes feature Virginia cedar and musk.
Oddly, although Omnia Coral is a fruity floral fragrance, the hibiscus residing in the top notes fills in a heavier woody experience than one might expect from an opening. Because you catch the hibiscus early on and musk and cedar fill in from the base notes, Omnia Coral is an overall musky tone. That's not a bad thing, just unexpected to most.
Omnia Coral performs best in more humid environments that are the hallmarks of a tropical, summer environment. You'll definitely catch some melons and juicy pomegranate as the sun beams down and heats up your skin.
With Omnia Coral, a little goes a long ways. Don't overspray or you'll probably overwhelm. Omnia Coral is a clean refreshing experience without being antiseptic. While Omnia Coral does project the fruity floral notes, there is no cheapness to its scent.
Bulgari Omnia Coral Commercial
Bulgari Omnia commercials reflect the tropical experience that the fragrance is best worn in. The sexy and feminine vibes also highlight the ultra unique bottle design.
Cost
About $75 for a full retail bottle, however, we sometimes have Omnia Coral samples available.
Final Notes
Omnia Coral is a popular womens fragrance. Its bottle pricing is reasonable. Its a potent fruity floral experience that works best in humid, tropical environments. Omnia Coral is a good buy for the price point and its modern packaging makes it a worthy gift idea for that special woman in your life.