Live Colorfully by Kate Spade Review: Cost, Smell, and More
New York fashion house Kate Spade has been around since the early 1990s. Now owned by Coach, Kate Spade continues to produce popular fashion and perfumes. Today, we'll look at Live Colorfully, a women's perfume that features a floral and fruity scent profile. Live Colorfully is also famous for marking the 20th anniversary of the brand having launched in 2013. It's vibrant packaging makes Live Colorfully an ideal women's gift idea.
Let's dive into our Live Colorfully review.
Live Colorfully by Kate Spade Review – All The Basics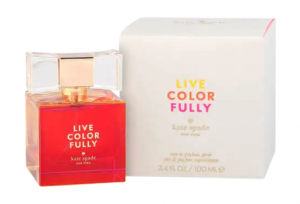 Kate Spade's Live Colorfully eyepopping, feminine packaging makes it a wonderful gifting option. The soft, pink hues reflect the scent's fruity floral scent profile. The perfumer behind Live Colorfully is a Swiss flavor company named Firmenich. Typically, we see a perfumer's name credited to a scent, but in this case, Kate Spade credits the famous corporation.
Firmenich is a huge company with over 10,000 employees and nearly 50 research centers. Like their competition, Givaudan, Firmenich has produced a wild array of well-known fragrances. Fabrice Penot and Edouard Roche were also credited with helping assist Firmenich in creating Live Colorfully.
Live Colorfully is available in 50 and 100 ml bottle sizes. But also, we carry Live Colorfully samples for those uninterested in taking too much of a risk.
What Does Live Colorfully Smell Like?
In the top notes, we find mandarin orange, water lily, and star anise. In the middle, gardenia, coconut, and tiare flower are used to help add tropical vibes. Bringing the scent profile home and balancing out the top fruity notes, we discover musk, amber, and Tahitian vanilla.
Live Colorfully exudes an uplifting, island vibe spirit. The coconut really stands out, but not in a suntan lotion way. Its subtle, but pronounced enough that you take it in.
The tiare is also pretty strong, which turns some people off.
People who like Live Colorfully also enjoy Viktor & Rolf's Flowerbomb and Yves Saint Laurent Black Opium.
Live Colorfully is a warm fragrance and certainly one that can be worn year round. Its reach is limited, but thats a good thing as it doesn't overwhelm a room. And although it has that island vibe going, you don't feel out of place wearing it in winter or indoors. It works for all occasions.
Live Colorfully in Commercials, Media
Directed by Roberto Serrini, this Live Colorfully commercial displays elegance and style and a jazzy, upbeat tone. While we might expect a beachy vibe given the scent profile, this Live Colorfully commercial pops in our ears and makes us want to dance.
Final Notes
Beachy, island notes that don't overwhelm and work for any time of the year – that's Kate Spade Live colorfully in a nutshell. This fruity floral fragrance for women exudes fun and elegance all in one. A retail bottle goes for around $55 making it a pretty economical buy, but samples are available on our site. Live Colorfully is worth trying. This fragrance may seem island-like, but it works for all occasions.