Delina Exclusif Review: Costs, Smell – A Sexy Gift Idea?
Parfums de Marly's Delina Exclusif represents class, sophistication, and yet feels elegantly demure. Delina Exclusif is a top perfume, but it's high-price point sometimes drives consumers away. As a women's perfume, it's in a class of its own. If you're looking to gift a special woman a fragrance, without question, Delina Exclusive is an opportunity to impress her at every level. 
If you're a woman considering Delina Exclusive, just know, we do have Delina Exclusif samples in stock. Samples can help lower the risk of going "all in" on a pricey perfume.
Let's learn more about Delina Exclusive.
About Delina Exclusif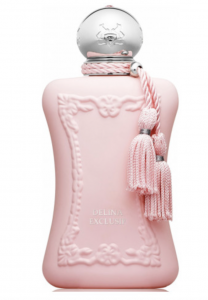 Is Delina Exclusif worth it?
That's the biggest question we're asked.
Such "value" questions tend to arise around perfumes and fragrances that are prices higher. Delina Exclusif bottles retail around $357. That's steep, but you get what you pay for (we hate saying it). 
That said, high price points don't always reflect a quality product. This is why we wrote our Delina Exclusif review. 
First and formost, from a packaging perspective, Delina Exclusif offers elegant, classy, upscale boxing in soft pink. Once open, the bottle reflects a more charged pink and there are beautiful tassles hanging from the top. Fragrance packaging matters, particularly when we consider giving the fragrance as a gift; but even moreso when we pay a premium price point. Delina Exclusif's boxing and unboxing will certainly impress and charm the receiver.
Perfumer Quentin Bisch created Delina Exclusif in 2018 and its been a success ever since, at least in its price range.
How Does Delina Exclusif Smell?
Delina Exclusif is a warm floral Eau de Parfum. At the top of the notes, we find lemon essence, raspberry, and red berries.
Further down in the middle notes, there's rose, ylang-ylang, and jasmine tea. Rounding out the bottom notes and serving as olfactory neutralizers, there's musk, vanilla, and cedarwood. 
Delina Exclusif is an overall mature floral fragrance. Clearly at over $350 a bottle, Bisch didn't intend for this scent to fall onto the wrist of younger crowds. The rose is bittersweet, but that works as it fills out an overall warm experience. While it isn't overwhelming, Delina Exclusif can demand attention of those around you. It's a bit of a seductive fragrance, something to keep in mind if you intend to gift it.
The vanilla and musk tend to dry it down and leave a woody, rich component to Delina Exclusif's profile.
Delina Exclusif is a sexy, mature, classy experience from first spritz opening all the way through the dry down.
Delina Exclusif Commercials, Marketing
We don't find any instances of much Delina Exclusif marketing, at least not for television or Internet. This may be intentional as the brand looks to align with a highly prestigious audience that may not prefer a model driving a sports car on a beach to board a yacht. 
Final Notes
Delina Exclusif is a high-end women's fragrance that's packaged in gorgeous boxing and bottle, making it a refined, classy gift. At over $350 a bottle, Delina Exclusif rings in as one of the more expensive women's fragrances out there. We have Delina Exclusif samples available for those who want to try this fragrance without paying top dollar for a bottle.