Eau de Lacoste L.12.12 Blanc Review: A Woody Paradise?
The Lacoste brand is an iconic French fashion experience. If you grew up in the 1980s, you well know Lacost. In fact, you probably sported that crocodile logo on a polo shirt or three. Lacoste also makes fragrances, hence, our Eau de Lacoste L.12.12 Blanc review. What does Eau de Lacoste L.12.12 Blanc smell like? How much does it cost? Do we carry samples? We'll even dive into the packaging and see if it's a good gift option.
Let's go.
Eau de Lacoste L.12.12 Blanc Review – Getting Started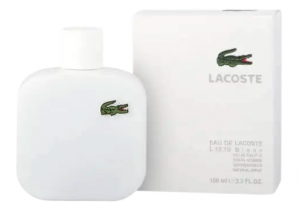 Lacoste was founded in the 1930's by a French tennis player named Rene Lacoste. What began as a knitting attire company quickly blossomed into one of the largest, most well-known fashion brands in the world. The crocodile logo became synonymous with upscale country club lifestyle. From tennis courts to polo fields, the recognizable Lacoste croc found it's way into our lives. Due to Lacoste's tennis career, Lacoste became known as tennis wear for both men and women. In the 1980s, Lacoste was simply the fashion of its time. In other words, you didn't need to play tennis.
But enough about that, what about Eau de Lacoste L.12.12 Blanc?
Often referred to as L.12.12. White, this semi-popular men's fragrance is part of a trio (others being blue and green). The White version aims for freshness and sophistication, yet should fit in well with sporty environments.
The L.12.12 White name is odd, but it does have meaning. The L stands for "Lacoste," but you likely guessed that. The 1 indicates petit pique. The 2 conveys shoter sleeves. Feeling that summer vibe yet? Dusted off your polo stick?
The L.12.12 White packaging is, as expected, a clean white that highlights the iconic Lacoste crocodile. The bottle design is sleek and modern. It's a good men's gift idea given the Lacoste brand legacy.
You can find it in 100 or 30 ml EDT bottles. But also, we have L.12.12 samples available.
What Does L.12.12. White Smell Like?
L.12.12. White offers a traditional woody experience. At the top, we find grapefruit as the strongest influencer followed by rosemary, cedar, tuberose, and cardamom. That's a rather extensive top note compilation. You'll find suede, leather, and more cedar in the base notes. The base notes serve to neutralize that acidic top note experience which is typical in mens' fragrances.
L.12.12. White is masculine scent experience that works well in the summer. Like most things Lacoste, the focus is almost always on warm sunny days. But you shouldn't avoid it in the winter months, it holds up well. That said, it doesn't last super long. At peak performance, maybe expect four hours. If we were to compare it to another fragrance, we'd say Versace Dylan Blue. We have samples of Dylan Blue also if you're interested in running your own comparison.
Lacoste L.12.12. White Commercials
Lacoste went all out in advertising their White and Pink (women's version) fragrances. Its a pretty dope, hip hop infused commercial that focuses on the bottle's minimalistic, clean design.
Final Notes
Lacoste 12.12. White is a summery, woody fragrance experience that's perfect for the man that's sporty. Although, don't hesitate to wear it during the cooler months as it has a warm vibe to it. That said, it doesn't last super long. Maybe try a sample and see how you feel about it.