Molecule 01 Review: A Ghost Fragrance or Sophisticated Brilliance?
Molecule 01 is a woody floral musk launched by Escentric Molecules on 2006. Its not a super popular fragrance. In our Molecule 01 review, we'll go over it's how it smells, what it costs, and any other related points. But we're going to tell you upfront, Molecule 01 is created using a different technique and that may be why it's not so popular among fragrance lovers.
Molecule 01 Review – Getting Started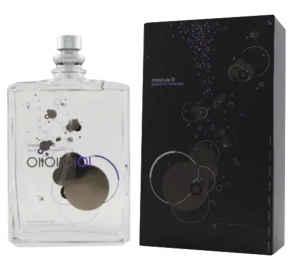 Escentric Molecules has both Molecule 01 and the version of Molecule 01 which features Mandarine. In this review, we're writing about the original Molecule 01.
Escentric Molecules embraces ideas in science and chemistry in its fragrance creations. The German brand's slogan, "Art & Chemistry," utilizes a labratory to create its scents. That said, so do most other fragrance brands, however, Ecentric Molecule appears to want to drive that point home. Founded in 1973 as Iso E Super. It's remained a relatively low publicity brand since.
Geza Schoen is the perfumer who created Molecule 01. Likewise, Schoen owns Escentric Molecules. He's considered a top-level perfumer who attended Haarmann & Reimer. He's worked directory with Diesel and Boudicca, to name a few. In 2006, Schoen launched Escentric Molecules off the Iso E Super brand. He's work is known for featuring single molecules.
Molecule 01's packaging conveys a modern, mysterious vibe. The actual bottle utilizes greats and blacks. There's a splatter pattern over the top of the fragrance's name. The bottle and packaging is black and white in tones. The Molecule 01 packaging works great for gifts.
Morever, Molecule 01 is a genderless fragrance which can be used by both men and women.
We have Molecule 01 samples available for those who want to try it out rather than invest in a full bottle. A full bottle of Molecule 01 would run you around $85.99 depending on where you purchase.
What Does Molecule 01 Smell Like?
Molecule 01 is a woody, floral fragrance. There's not much to say over "notes" as Schoen uses a single molecule to compose Molecule 01's smell.
There's a bit of a cedar scent to it, but it should be noted that Molecule 01 is a super light scent. In fact, many Molecule 01 reviews don't smell it at all. And people often cite that others simply don't notice the fragrance on them. Those who do smell it often compare it to Santal 33.
Its difficult to say what Molecule 01 is going for in the scent category due to its utterly weak projection.
Molecule 01 Commercials, Media Coverage
There's not a whole lot to speak of in terms of Molecule 01 in the media, commercials included. We did find what appears to be an old Molecule 01 commercial on YouTube.
Final Notes
Overall, Molecule 01 isn't a top fragrance. It's difficult to smell for many and offers very little projection. While the use of a single molecule is unique, the process doesn't distinguish itself from traditional fragrance creation in any positive way. If you've had some experience with Molecule 01, please leave us a review. We'd love to hear from you.