Tom Ford Noir Extreme Review: Costs, Smell, and More
Tom Ford has served as one of the prominent shapers of the world of fashion. Having launched in 2005 off the heels of his successes as creative director roles at Yves Saint Laurent and Gucci, Ford has catapulted into the luxury world's stratosphere. Well known for glasses, Ford's fragrance endeavors have also grown more and more popular over the years. Today we'll review Tom Ford Noir Extreme, a men's fragrance that's continued to grow in popularity since its 2015 launch.
Read through our Noir Extreme review and decide if this fragrance fits your needs, or maybe its worth a try at sampling.
Tom Ford Noir Extreme Review: The Basics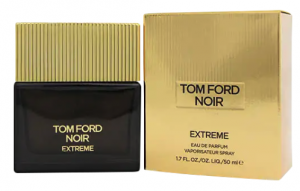 If you don't trust fragrance reviews, we get it. Scent is a subjective experience. So we don't take that personal. You could save yourself some time and pick up a Tom Ford Noir Extreme sample. This way, you can truly understand if this fragrance works for you.
Or, you can read our review and then decide if the sample is the right direction.
Let's not overcomplicate this, friends.
Tom Ford's Noir Extreme was created by perfumer Sonia Constant. The men's fragrance hit shelves in 2015 and was greeted with moderate success. Anything Tom Ford launches should have at least some market penetration due to the brand's global popularity. Noir Extreme is an evolution from Noir Eau de Toilette that launched two years prior. Noir Extreme "dares to be extraordinary" and its place in its fragrance evolution is a more pronounced, less humble, and not subtle. In other words, Noir Extreme is a bold scent.
Sonia Constant attended the Givaudan School of Perfumery and has nearly 180 fragrances under her resume. She's created fragrances for Antonio Banderas, Zara, and Valentino.
What Does Noir Extreme Smell Like?
Constant captured a warm, spicy experience by using cardamom, saffron, nutmeg, mandarin orange, and neroli in the top notes. In the middle, she leveraged the power of orange blossom, lentisque, jasmine, and rose. In the base, we find vanilla, sandalwood, and amber.
There's a heavy citrus opening that exudes an asian influenced scent profile, mainly due to the mandarin orange. There's warmth and mystique, but that's balanced out the by the sandalwood base note. This is a bold fragrance that projects initially a good ways. The dry down offers a sweet and spicy blend.
The bad news is, Noir Extreme tends to fade rather rapidly, according to a number of reviewers. At $150 per bottle, we'd expect a bit better performance.
Overall, Noir Extreme is both fun and sexy, at least while it last.
Noir Extreme Commercial
Tom Ford deployed a cinematic, sexy experience featuring a sophisticated, sexy, and refined man coming home to his lavish, modern quarters in the night. Of course, towards the end, a woman in lingerie appears in his home – because, of course.
Final Notes
Tom Ford Noir Extreme is a bold, spicy fragrance. We have samples available for those who are interested in trying out Noir Extreme.