Miss Dior Blooming Bouquet Review – Soft, Elegant, But Worth It?
Miss Dior Blooming Bouquet continues its run on our best perfumes for women blog post.
Check out our Miss Dior Blooming Bouquet review and let us know what your experience with this popular fragrance is.
Miss Dior Blooming Bouquet Review – The Basics
Miss Dior Blooming Bouquet is a floral fragrance and is considered one of the top perfumes for women. Its rise to the top of the fragrance charts began shortly after being introduced to the public in 2014.
Francois Demachy is the perfume creator behind the famous fragrance. Demarchy calls his creation an "extraordinary silky fragrance." He considers it a soft perfume that's elegant in its composition.
The Blooming Bouquet bottle (pictured below) is well-known for its glassy bow sculpture appearance.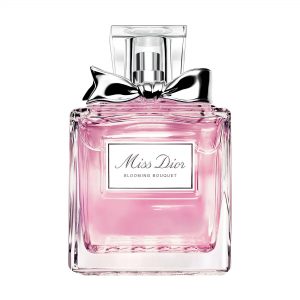 Let's take a deeper dive into Blooming Bouquet.
What Does Blooming Bouquet Smell Like?
Peony and roses and white musk pop from Blooming Bouquet's first spritz and remind us exactly how this fragrance got its name. There's a fresh floral olfactory ambiance to Blooming Bouquet. It indeed lends the sense that someone dropped fresh flowers off in your home.
However, Blooming Bouquet doesn't overwhelm; instead, it encourages a vibrant, fruity ambiance for those in range.
The fruity notes are light, giving it a softer impact. It's not an overly sweet experience by any means. Blooming Bouquet elicits a more natural addition to your surroundings.
When I think of Blooming Bouquet perfume, I think "clean."
I don't love saying it's "not sexy," but I do think it avoids the more flirtatious side that many fragrances attempt. And that's perfectly OK with us. You don't need to smell like your out on singles night while at work, or a guest at a fundraiser.
Are you interested in trying Blooming Bouquet without going all-in on a bottle? Try our Blooming Bouquet perfume samples.
How Long Does Blooming Bouquet Last?
So, here's a possible downside depending on your use. Blooming Bouquet will only last up to four hours. That's not a long time. If you put it on before dinner, you'll likely make it through the experience. But put it on before work and it's gone shortly following lunch.
To be clear, the amount of time a fragrance last is only relevant for specific use cases. If you don't need eight hours of a scent, then who cares?
Blooming Bouquet Ad Campaigns
Janice Joplin roars in the background as Natalie Portman lives out her most romantic side of life. The Blooming Bouquet perfume advertisement campaign ropes you in with its romance play (Portman as a bride) but then quickly shuttles you off to her climbing a ladder into a chopper. The ad campaign certainly achieves a sense of idealogic pluralism.
Portman's portrayal is both flirtatious, gorgeous, and strong. She's the perfect brand ambassador for Miss Dior.
Final Notes
Blooming Bouquet exemplifies what a floral fragrance should represent with its soft, fruity notes. But, it's not in your face; instead, it exists in the backdrop of your busy, social life.
The downside to Blooming Bouquet might be that it lasts only around four hours. This is something to consider if you enjoy a longer fragrance duration.