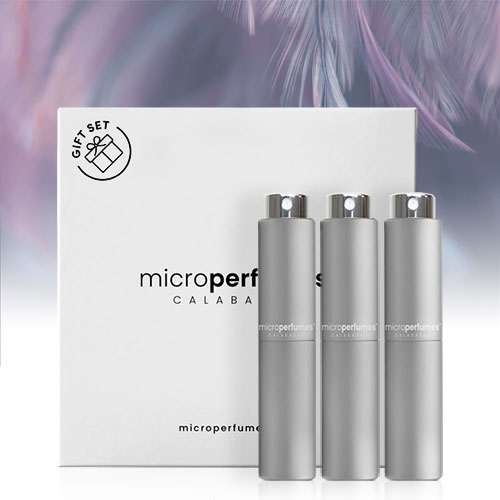 Click For Full Size
Women's Best Seller Gift Set - Baccarat Rouge 540, Aventus for Her, Good Girl
Discover the best selling women's fragrances in one beautiful box set. Perfect for gifting or treat yourself for personal use. The Women's Best Seller Collection includes: Baccarat Rouge 540 + CH Good Girl + Creed Aventus For Her
Price:$90.0015% OFF - Click here
Secure Transaction & 100% Authentic - Guaranteed All sample & travel size products are rebottled by PVI without the authorization of the brand owner. Sold & shipped by: MicroPerfumes
MicroPerfumes.com is owned by Perfume Ventures Inc (PVI), Calabasas, CA 91302, a wholly independent and separate entity from the manufacturer or brand owners of the designer fragrance. The sample and travel size products sold on MicroPerfumes.com contain genuine fragrance and are independently rebottled and repacked by PVI. PVI is not associated with the designer, or the designer's manufacturer in any way, and has no agreement, license, consent or arrangement authorizing the rebottling or repackaging of the fragrance. Please visit our Terms of Sale for additional information or Contact Us for customer service.
GOOD THINGS COME IN THREES
3 Travel Sprays for $90.00
Good Girl
CH Good Girl by Carolina Herrera is one of the most complimented women's perfumes. It's the ultimate femme fatale fragrance, with sensual jasmine and seductive tonka notes.
Carolina Herrera, Eau de Parfum, Introduced 2016
Fragrance Notes: tonka bean, cacao, tuberose, jasmine, almond, coffee, vanilla, orris, sandalwood
Recommended Use: Evening
Creed Aventus For Her
Creed Aventus For Her purrs with fruity and rosy freshness. It's comprised of an apple-sweet freshness, that later transforms into a creamy sandalwood with fruity and rosy notes of peach and ylang-ylang. A perfume that, unlike the men's version, doesn't scream for attention, it gently caresses and compliments the skin of its wearer.
Creed, Eau de Parfum, Introduced 2016
Fragrance Notes: Green Apple, Musk, Black Currant, Patchouli, Rose, Peach, Lemon, Sandalwood, Bergamot, Amber, Violet, Sytrax, Ylang-Ylang, Pink Pepper, Lilac
Recommended Use: Casual
Baccarat Rouge 540
Baccarat Rouge 540 is a pure paradox in a bottle: sweet yet spicy, powdery yet metallic, heady yet clean and airy. It's ridiculously long-lasting, very inoffensive, unique and versatile for any occasion or time of year. It's recently become an internet sensation with Google Trends reporting a 100% increase in searches over the course of November 2020. Find out what all the hype is about.
Maison Francis Kurkdjian, Eau de Parfum, Introduced 2015
Fragrance Notes: Jamsine, Amberwood, Ambergris, Saffron, Cedar
Recommended Use: Casual