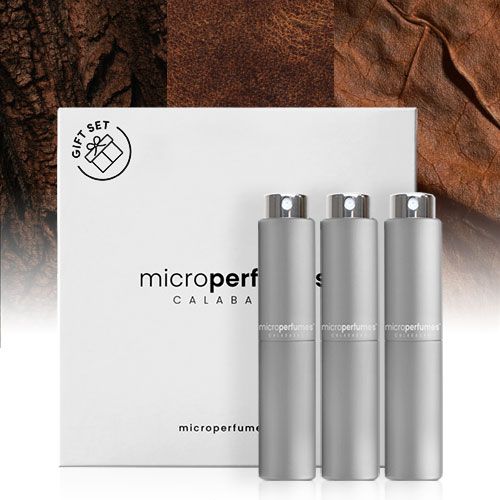 The Tom Ford Gift Set - Oud Wood, Tobacco Vanille, Tuscan Leather
Discover Tom Ford, the top trending fragrance house, through three of their best selling men's fragrances in one box set. Perfect for gifting or personal use. The Tom Ford Collection includes: Tom Ford Oud Wood + Tom Ford Tobacco Vanille + Tom Ford Tuscan Leather
Price:$139.9730% OFF - Click here
Secure Transaction & 100% Authentic - Guaranteed All sample & travel size products are rebottled by PVI without the authorization of the brand owner. Sold & shipped by MicroPerfumes
MicroPerfumes.com is owned by Perfume Ventures Inc (PVI), Calabasas, CA 91302, a wholly independent and separate entity from the manufacturer or brand owners of the designer fragrance. The sample and travel size products sold on MicroPerfumes.com contain genuine fragrance and are independently rebottled and repacked by PVI. PVI is not associated with the designer, or the designer's manufacturer in any way, and has no agreement, license, consent or arrangement authorizing the rebottling or repackaging of the fragrance. Please visit our Terms of Sale for additional information or Contact Us for customer service.
GOOD THINGS COME IN THREES
3 Travel Sprays for $139.97
Tuscan Leather
Tom Ford's Tuscan Leather is a true leather scent through and through, with an added softer side. Its fruity, herbal and sheer floral sweetness, provided by night blooming jasmine, break its toughness like a leather jacket that gets softer the more you wear it. It's a great fragrance for him and her, and works perfect for both day and night.
Tom Ford, Eau de Parfum, Introduced 2007
Fragrance Notes: Saffron, Raspberry, Olibanum, Jasmine, Thyme
Recommended Use: Casual
Oud Wood
Tom Ford's Oud Wood is a pioneering composition of exotic woods and spices. As Tom Ford describes himself "Oud Wood envelops you in rare oud, exotic spices, and cardamom then exposes its rich and dark blend of sensuality." It's a timeless classic, which is perfect for entry into the Oud world.
Tom Ford, Eau de Parfum, Introduced 2007
Fragrance Notes: Sandalwood, Amber, Sichuan Pepper, Vanilla, Cardamom, Tonka Bean, Brazilian Rosewood, Vetiver, Agarwood Oud
Recommended Use: Casual
Tobacco Vanille
Tom Ford's Tobacco Vanille is a reinvention of the classic tobacco fragrances that adds a creamy tonka bean, vanilla, dry fruit, cocoa and sweet wood sap for a modern and opulent expression of power and confidence. This powerful fragrance, according to various sources, is even rumored to be a favorite of singer, songwriter, and actor Harry Styles.
Tom Ford, Eau de Parfum, Introduced 2007
Fragrance Notes: Spicy Notes, Tobacco Leaf, Cacao, Vanilla, Tobacco Blossom, Tonka Bean, Woody Notes, Dried Fruits
Recommended Use: Casual