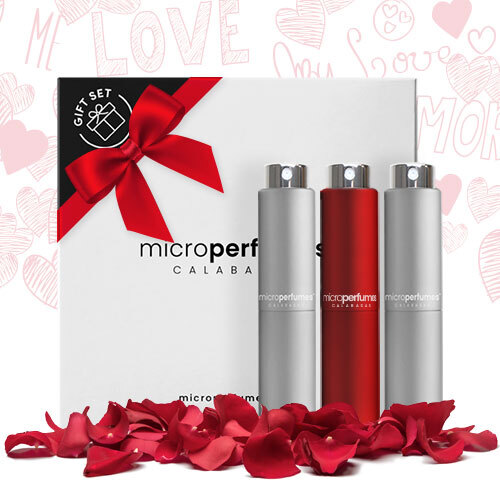 Valentine's Day Gift Set - Baccarat Rouge 540, Black Orchid, Flowerbomb
Give the perfect gift this Valentine's Day with a trio of hand-picked romantic fragrances in our sleek Travel Spray size. Inspired by classic gift ideas, this collection checks all the boxes for a perfect Valentine's Day gift. A Box of Chocolates: Tom Ford Black Orchid; A Bouquet of Flowers: Viktor & Rolf Flowerbomb; A Night of Romance: Baccarat Rouge 540
Price:$76.9130% OFF - Click here
Secure Transaction & 100% Authentic - Guaranteed All sample & travel size products are rebottled by PVI without the authorization of the brand owner. Sold & shipped by MicroPerfumes
MicroPerfumes.com is owned by Perfume Ventures Inc (PVI), Calabasas, CA 91302, a wholly independent and separate entity from the manufacturer or brand owners of the designer fragrance. The sample and travel size products sold on MicroPerfumes.com contain genuine fragrance and are independently rebottled and repacked by PVI. PVI is not associated with the designer, or the designer's manufacturer in any way, and has no agreement, license, consent or arrangement authorizing the rebottling or repackaging of the fragrance. Please visit our Terms of Sale for additional information or Contact Us for customer service.
GOOD THINGS COME IN THREES
3 Travel Sprays for $76.91
Black Orchid
Tom Ford Black Orchid is a complex blend of sweet sensual truffle and fruity floral notes. Like a rich warm mug of Mexican hot chocolate, this perfume is sure to warm up your evening.
Tom Ford, Eau de Parfum, Introduced 2006
Fragrance Notes: Chocolate, Patchouli, Incense, Orchid, Gardenia, Tuberose, Vanilla, Spices, Amber, Black Currant, Fruits, Sandalwood, Jasmine, Vetiver, Ylang-Ylang, Lotus, Bergamot, Orange, Lemon
Recommended Use: Evening
Baccarat Rouge 540
Baccarat Rouge 540 was the most popular fragrance of 2021 and a perfect gift for Valentine's Day 2022. The lady in your life will appreciate the sophisticated fragrance notes that have to be experienced to understand. Baccarat Rouge 540 is the perfect touch of luxury to round out this gift set.
Maison Francis Kurkdjian, Eau de Parfum, Introduced 2015
Fragrance Notes: Jasmine, Amberwood, Ambergris, Saffron, Cedar
Recommended Use: Casual
Flowerbomb
Flowerbomb by Viktor & Rolf is a perfectly sweet and floral fragrance that exudes classic femininity. The warming scent of vanilla and patchouli adds a sensual twist to this floral forward fragrance.
Viktor & Rolf, Eau de Parfum, Introduced 2005
Fragrance Notes: Patchouli, Orchid, Tea, Rose, Musk, Jasmine, Bergamot, Freesia, Orange Blossom, Osmanthus
Recommended Use: Romantic