Considering Burberry London Perfume? Our Review Will Help.
The Burberry brand stands synonomous with class, elegance, and refinement. So our expectations hardly throttle for this London perfume review. Burberry offers a number of fragrances, many of which we carry samples. So yes, our expectations are high for this review. And rightfully so, all things considered. We'll review Burberry London perfume's cost, what is smells like, its commercial and advertising campaigns, and it's packaging.
Burberry London Perfume Review – Getting Started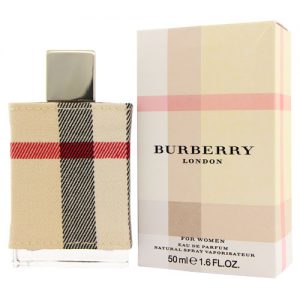 Dominique Ropion created London in 2006. It's been moderately successful in the decade and a half to follow, but certainly not one of Burberry's top perfumes. That said, Ropion, a masterful Parisian perfumer, certainly is no slouch. In other words, Burberry utilized a legendary nose to craft London perfume. Ropion was awarded the Cosmetique Magazine Oscar in 2010 for his achievements which considers an astonishing 75,000 plus fragrances. That's a mindnumbing amount of perfumes to have listed under your name.
London perfume is considered a floral fragrance. It's intended to reflect the bustling lifestyle of London proper.
The packaging is traditional Burberry, using the beige cloth-like material that wraps around the elegant bottle. It's a very Burberry experience which makes it a great gift. Of all of Burberry's fragrances, London is one of its more affordable making it an even more impressive gift idea.
Burberry London Perfume Samples, Bottle Cost
Some of you may remain unsure of what you think about London perfume. That's fair, we've not gotten to the heart of the review (the smell, of course). That said, for those uninterested in reading further, you can pick up a Burberry London perfume sample here. We have samples in stock. Samples are an excellent way to try out a perfume without risking your hard earned cash. There is nothing worse than buying a full bottle of perfume only to find it loiters on a powder room shelf for eternity.
That said, a full bottle of Burberry London perfume runs at a reasonable $33.99. That's not a huge risk in the end. Furthermore, you can often find London on sale if you are a patient shopper.
What Does London Perfume Smell Like?
In the top notes, Ropion uses tangerine, rose, and honeysuckle. In the middle, you'll find tiare flower, peony, jasmine, and clementine. The base notes are rounded off with sandalwood, musk, and patchouli.
Expect a fruity opening noted by the tangerine. That said, London's fruity opening exudes maturity and in no way conveys a teen vibe. You catch a summer vibe, however, London's scent profile is subtle enough for any occasion. Given the scent is based on London, a city known for cloud cover and fog, the use of summery floral notes speaks to greater intentional contradiction. And that's always fun.
London's scent is hardly offensive at all. You can wear it in tight quarters with no worries at all. London does not overly project in any way. Instead, it maintains its presence in an elegant, mature way. Those around you will know you're wearing it without KNOWING you're wearing it.
The jasmine makes itself known following the opening, as does the musk. These base notes tame the experience overall, although not by much, which is good as London doesn't ever feel overly fruity. You might classify London as a lighter floral with a tinge of sweetness. London is a soft, elegant, and timeless perfume experience. You can't go wrong no matter what occasion you choose to wear it.
London lasts around 5 to 6 hours which is great considering its economical cost.
London Perfume in Commercials, Advertising
Fast-paced and cut from black and white reel, Burberry delivers a jetsetting, urban style commercial to show off London. Burberry acquired the talents of Rachel Weisz and actor Ioann Gruffud in making the London perfume commercial. Unlike Burberry Indigo which features Josh Whitehouse or Burberry Hero which leverages the mystique of Adam Driver, London perfume isn't one of Burberry's headline fragrances but still manages to utilize celebrity endorsers.
All the same, London perfume's commercial is vibrant and fun, which reflects the ambition of it's creators.
Final Notes
Burberry London is a summery, floral fragrance, but it can be worn any time, to any occasion. The signature Burberry packaging makes it a wonderful gift idea for romantic or friendship intentions. We have London samples in stock on our perfume sample site. Given that London's price point is very affordable, it's a great option for a holiday gift.