Mr. Burberry Indigo Eau de Toilette Review
Burberry is a top men's and women's perfume and fragrance maker. So for our Mr. Burberry Indigo review, expectations are high. Too high? For Burberry, never!
Read our Indigo perfume review and learn if this is the right men's fragrance for you needs. 
Mr. Burberry Indigo Review – Basics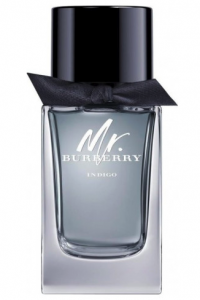 Renowned perfumer Francis Kurkdjian created Indigo fragrance on behalf of Burberry in 2018. The fragrance, officially an Eau de Toilette, has been popular among men ever since.
Kurkdjian is a french perfumer who is best known for his globally popular Le Male. Le Male is a Jean Paul Gaultier perfume that continues to sell in a massive volume. He is an unquestioned groundbreaker in the fragrance industry and society.
We do have Mr. Burberry Indigo samples here. So if you want a less risky try, perfume samples certainly are the way to go.
What Does Mr. Burberry Indigo Smell Like?
Aren't we glad you asked?
Kurkdjian used rosemary, bergamot, grapefruit, and lemon in the top notes. The middle notes are a little peppier, using violet, sage, mint, and hedione.
Indigo's base notes are oakmoss, amber, and iso E super.
Overall, Mr. Burberry Indigo is an aquatic men's cologne. You can really catch the mint leaf strongly, which sometimes turns men off from buying. The mint is potent and lasting. But it's not so in your face that you can't wear Indigo casually.
The problem with mint as a scent is that it can be polarizing. For some men and women, mint comes off as offensive. As if to say, some might feel your sporting your mouthwash. But for others, the very nature of mint is refreshing.
There's a follow up herbal smell that cast out as well.
Mr. Burberry Indigo Commercials
Burberry spared no pennies when it used popular actor and musician Josh Whitehouse in a sexy, high-production Indigo fragrance commercial. The commercial is shot off the gorgeous coast of British Kent.
Final Notes
Mr. Burberry Indigo is a popular men's fragrance that minty persuasion polarizes people. Hey, some people love mint, others not so much – particularly in fragrance form.