Poison for Women by Christian Dior – Review Cost, Scent, Available Samples…
Girl, I must warn you… I sense something strange in my mind!
Don't pretend Bell Biv DeVoe's mega-hit didn't pop right into your mind when you saw the title of this Poison review. Or maybe I'm a bit strange in my mind. All the same, today we'll discuss the cost, scent, and whether or not you can find samples of Christian Dior's poison. Christian Dior is a designer fashion brand that also has a line of popular fragrances. Dior Poison is a women's amber floral perfume. Is Poison by Dior worth trying? That's what we aim to help you learn today.
You ready, Biv?
Poison Dior Review – The Basics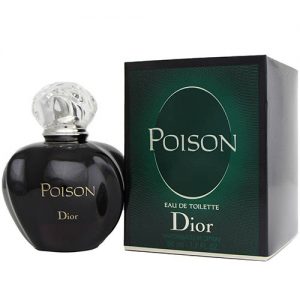 If it turns out you enjoy Poison by Dior, you can thank highly-acclaimed perfumer Edouard Flechier for the experience. Flechier's repuation as a free spirit often offers unique, "off the beaten" path type scent creations. For Flechier, he doesn't subscribe to any scent boundaries when he crafts notes together. One of his original successes is the famed Davidoff Pour Homme. That said, Poison is one of his notable expressions and one of his most successful endeavors. That said, his signature fragrance, Une Rose, is widely considered his ultimate achievement.
The point in saying all of this is to help you understand that any fragrance under Fleshier's guidance undoubtedly offers quality and a bit of soul.
Poison won the FiFi award in 1987. This fragrance has been making it's mark for decades now, so it is safe to recognize that it's withstood the test of time. Poison is the original undertaking, other versions followed, including Hypnotic Poison.
Now, for those who may not prefer reading this Poison by Dior review in full, we do have Poison samples available. With a full bottle retail price at $96.99, a sample of Poison may help you decide if this fragrance works in your daily life.
Christian Dior, as a global fashion brand, exudes quality and class. So it is no surprise that the company was able to bring in Flechier to help create this popular women's fragrance. The French luxury fashion house is now worth over $53 billion and although fragrances aren't its top provider, the company remains dedicated to producing high-end scents.
Because Poison is a Dior scent, you can expect fashionable packaging which always helps when you choose to gift the fragrance. There's a deep green tone on the box, which conveys a rather mysterious vibe. The bottle is beautiful, yet simple, and certainly elegant. The overall packaging is impressive and gift-worthy.
But how does Poison smell?
What Does Poison by Dior Smell Like?
Flechier uses plum, coriander, and wild berries in the top notes that help exude a fruity opening. In the middle, we find white honey, cinnamon, carnation, tuberose, jasmine, and African orange. In the base, vanille, sandalwood, amber, and musk help neutralize the initial fruity expressions.
Poison offers a rare plum opening. Again, going back to Fleshier's affinity for not following rules or style guides, it is no surprise that Poison lends us a rather unique opening. Poison is a perfect fall fragrance and performs well on cool nights. The cinnamon certainly helps lend even more of a seasonal influence to it, warming it up.
The warm notes play well with the plum opening.
Poison is a sweet scent without the teen vibe.
Poison by Dior in Commercials
Old school and 1980s, that's the nostalgic vibe in this Dior Poison commercial. Its a trip down memory lane, at least if you are as old as I am. If this doesn't remind you of the 1980s, nothing will. Even the "Dynasty" type music and the voice over have that old school vibe. And its fantastic.
Final Notes
Poison by Dior is an old school, 80s fragrance that has succeeded over decades. It's a mainstay fragrance that's as classic as it is modern. In other words, Poison continues to serve as a wonderful women's fragrance. The Poison packaging helps make it a great gift idea for the special woman in your life. You can't go wrong gifting Poison to someone special, or, buying it for yourself. Poison is the original of a limited edition set.