Flowerbomb by Viktor&Rolf Review – Does It Live Up To The Hype?
Flowerbomb by Viktor&Rolf continues to claim a top spot on our best perfumes for women list. Flowerbomb's dramatic rise to the top ranks of the perfume world derives from both its high-quality fragrance and its award-winning, high-budget marketing campaigns.
In our Viktor&Rolf Flowerbomb review, we break down the things you need to know about this perfume – before you buy.
Flowerbomb Perfume Review – The Basics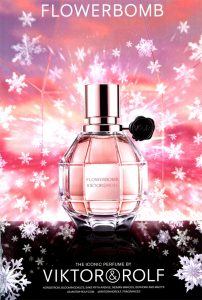 In 2005, perfume creators Dominique Ropion, Carlos Benaim, Domitille Michalon Bertier, and Olivier Polge combined efforts to help craft and launch the fragrance formula now known as Flowerbomb. It's been an undeniable fragrance market success ever since.
Flowerbomb perfume samples continue to dominate perfume sample sites.
Popular retail stores Sephora, Macy's, and Nordstroms carry Flowerbomb. However, its dominant presence in the fragrant market is undeniable.
Flowerbomb is also known for its soft, pink-hue bottle. However, its eloquence in design remains unmistakable.
Flowerbomb is considered a more expensive purchase. But its quality is undeniable.
What Does Flowerbomb Smell Like?
"Discover an explosion of flowers with the
power to transform the negative to the
positive from fragrance artists Viktor&Rolf."
An "explosion of flowers," that's what the makers of Flowerbomb convey regarding their product's smell.
Fragrance experts consider Flowerbomb a warm and spicy experience. Jasmine, Orange Blossom, Patchouli are the main notes.
A warmer, spicier base highlights the sweet floral initial impact. In the case of Flowerbomb, perfume makers nailed the experience.
How Long Does Flowerbomb Last?
In the case of Flowerbomb, a little spritz goes a very long way. This stuff is known to last up to 10 hours, which is substantial and impressive. The long-lasting effects of Flowerbomb rank it near the top of all women's perfumes.
In other words, if you put on Flowerbomb in the morning, it will likely rear its gorgeous presence later into the evening.
Flowerbomb's Award-Winning Ad Campaigns
Anya Taylor-Joy, famously known for her roll as Beth Harmon in The Queen's Gambit, represents Flowerbomb's marketing campaign in a powerful, award-winning commercial.
Inez Van Lamsweerd & Vinoodh Matadin created Flowerbomb's advertising campaign, which features Taylor-Joy.
Pink hues serve as a backdrop as Taylor-Joy's face circles about in an eloquent perspective.
It isn't difficult to see why Flowerbomb's ad campaigns turn heads. It's a gorgeous experience.
Final Notes
Flowerbomb is one of the most famous women's perfumes on the market today. Its warm and spicey features are a signature aroma. It lasts close to 10-hours. Try a sample of Flowerbomb perfume and see if you enjoy the fragrance.