Burberry Weekend for Women Review – Floral Fun, But Worth The Money?
Maybe you've heard of Burberry Weekend for Women but you aren't sure if it's your jam. Well, ladies, this fruity fragrance continues to captivate some and turn off others. In today's review, we will break down this floral fragrance and help you decide if you want to buy a full bottle, try a sample, or merely pass.
Burberry Weekend for Women Review – Let's Go!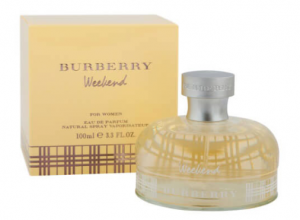 First, Burberry Weekend has two versions, men and women. But for the sake of simplicity, we're only reviewing Burberry Weekend for Women.
Perfumer Nathalie Lorson helped launch Burberry Weekend for Women in 1997. Since then, this fragrance has more than withstood the test of time. Its become a staple of Burberry fragrances.
Lorson is one of the world's foremost noses, having also worked alongside Roure Bertrand Dupont, IFF. She's created 245 fragrances and shows no signs of stopping. She's worked with notable brands, including Versace, Yves Saint Laurent, and Zara.
Her Burberry Weekend for Women fragrance reflects a theme in fruity, floral fragrance masterpieces. Growing up in Grasse, she says her first scent memory involved a field of mimosas.
Her experience and undeniable passion made Burberry Weekend for Women a top-selling fragrance.
One thing we don't love about this fragrance is the bottle. It appears more like a converted spaceship than a perfume created by a top fashion brand. But hey, opinions are like…
Burberry Weekend for Women Samples
MicroPerfumes carries Burberry Weekend for Women samples. Simply click that link and have one sent to your home. Although you could visit your local store and get a spritz, that's not real life use. A perfume sample allow you the opportunity to use the perfume under your life's circumstances and daily use. How long does it last for your skin type? What does Burberry Weekend for Women smell like in an hour? What about two hours? Every woman's skin type and ecosystem is unique. You might live in South Dakota, or Florida.
What Does Burberry Weekend for Women Smell Like?
Burberry Weekend for Women is a floral fragrance. Its top notes feature mandarin orange, sage, and mignonette. We find blue hyacinth, rose hip, peach blossom, nectarine, red cyclamen, and violet root in the middle. The base notes, using sandalwood, cedar, and musk, help bring a sense of neutrality to an intense fruity assemblage.
Burberry Weekend for Women exudes sweetness right from its opening. If you don't enjoy sweet perfumes, abandon this one. The base offers freshness and cleanliness.
Burberry Weekend for Women is potent and it may overwhelm, particularly if you apply too much. This can cause an air freshener experience that no one prefers.
Burberry Weekend for Women Commercials
Burberry produced nothing overly sensational other than an Internet ad that features both the men and women's versions. There's not dialoque, just a tranquil scene with two lovers basting in beachside joy. It certainly sets a hypnotic, sexy mood. In other words, it's a very Burberry experiences. You can view it here.
Conclusion
Burberry Weekend for Women is a floral fragrance that can sometimes overwhelm senses with ultra sweetness. As a result, it's probably a tad overrated unless you dig sweet.
You are best to try a sample of Burberry Weekend for Women to get an idea if it fits your lifestyle.