Chance Eau Tendre Chanel Review
Chanel is one of the best-known fashion brands in the world. Its perfume line, Chance, has several popular fragrances within it. One of those is Chance Eau Tendre which is third in line.
In our review, we will examine this scent's smell, notes, and cultural popularity.
Let's get to it.
Chance Eau Tendre Chanel Review Basics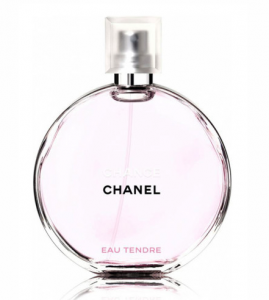 Jacques Polge's nose helped bring Chance Eau Tedre to the market in 2010. The perfume is marketed as a romantic, floral scent. Polge, a French perfumer, was Les Parfums Chanel head from 1978 to 2015. Thus, Chance Eau Tedre was one of Polge's final wonders to give to the perfume community. Polge's first perfume creation was in 1987 with Bois Noir for those curious. Some might know it as Egoiste.
Chance Eau Tendre is available in 20 and 100ml bottles; plus, we have samples (see below).
Chance Eau Tendre Chanel Samples
Maybe our Chance Eau Tendre Chanel review won't sell you on buying a full bottle. Our perfume reviews, to be clear, are intended for accuracy, not selling you on the item. That said, we do have Chance Eau Tendre Chanel samples in stock. It can be a good idea to try a perfume before going all in for a full bottle. The choice is yours.
What Does Chance Eau Tendre Smell Like?

This floral fragrance leverages grapefruit and quince on the top. In the middle, we find jasmine and hyacinth. The base notes use iris, musk, amber, Virginia cedar.
First, Chance Eau Tendre tends to wear off during the dry down phase. In other words, it loses its potency after about two hours. For some, that's no good. For others, this less potent version is the subtle scent they've been looking for.
You might feel Chance Eau Tendre compares well to Marc Jacobs Daisy Eau. You'd be right, they are similar fragrances, and many folks feel they do share similar scent profiles.
The opening is a citrus, sometimes tart expression. The dry down tends to neutralize this experience with amber and cedar. In other words, that citrus pop does not last all that long. But for many, it's fun while it does.
You can get about eight hours out of Chance Eau Tendre, but it may require a few initial spritzes to get there.
Chance Eau Tendre is a youthful scent, but I wouldn't say immature.
Commercials, Marketing
Sassy and vibrant. That's the two adjectives which come immediately to mind when watching this Chance Eau Tendre commercial that features an eccentric dance act ripe with bright, eye-popping rose pedals flying through the set. Model Sigrid Agren is the face of the brand.
Final Notes
Chance Eau Tendre isn't for everyone: a citrus opening, a musky dry down. It's youthful but not immature or teen-oriented. It might be a good idea to try a sample before investing in a full bottle.