Gucci Guilty Perfume Review – Sophisticated Spice, Fun Vibe
Gucci Guilty is yet another popular Gucci fragrance. While it isn't on our top women's perfume list, that doesn't mean you should take a pass. Many women love Gucci Guilty, and as our review will show, it's a good one. But maybe not for everyone.
Choosing a perfume can be laborious and even expensive. The good news is, we have Gucci Guilty samples for those who want to give the fragrance a try sans the financial risks.
Gucci Guilty Review – A Basic Overlook
Gucci Guilty is a women's perfume. Aurelien Guichard is the leading perfumer who crafted this now top-selling fragrance. The son of famous perfumer Jean Guichard, Aurelien is the nose behind over 100 other popular fragrances, including Heidi Klum's Shine and Bath & Body Works A Thousand Wishes.
Gucci Guilty also has a men's version, Gucci Guilty Black for women, and Gucci Guilty Intense for men.
Like all things Gucci, the Gucci Guilty bottle is elegant, stylish, and of course, comes with the Gucci logo carved in.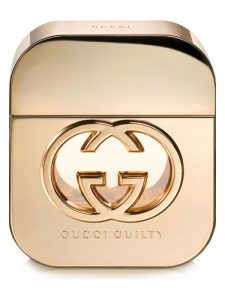 Gucci as a brand is considered upscale and expensive. The Gucci brand markets to a sophisticated and wealthy audience. Gucci Guilty does not buck the trend.
What Does Gucci Guilty Smell Like?
Gucci Guilty is a rich floral experience. But it also cast some subtle spice that gives it a vibrant feel. This is because its top notes are pink pepper and mandarin orange. The blend between pepper and citrus institute fiery, distinctive and fun layers.
In the middle, you'll find Peach, Geranium, Jasmine.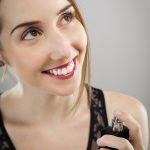 The base notes include Vanilla, White Musk, Patchouli, and Amber.
There's a woody amber smell to its base that's topped with sweet fruits and peppery delight. But don't worry, Gucci Guilty's fruity experience isn't so sweet that it's teeny bopper. Not at all.
Gucci Guilty is a profound and feminine fragrance experience. It's for the modern woman.
Some might call Gucci Guilty "understated." It's not up in your face; rather, it fills in subtly in the backdrop of your life. It's energetic and fun, without being egotistical.
How Long Does Gucci Guilty Last?
Only a few hours, and you'll need to reapply.
Gucci Guilty Advertising, Commercials
The Gucci Guilty ad campaign and commercials are hip, throwback fun. Gucci uses Jared Leto and songwriter Lana Del Rey in their #foreverguilty marketing campaign.
Final Notes
Gucci Guilty is a modern womens' perfume. Its white floral and peppery blend gives a fun, energetic, yet classy vibe. The downside is that Gucci Guilty doesn't last as long as many other top women's perfumes. However, it's a winner for a working woman looking to channel her chill-vibes.