Iman's Love Memoir Perfume Hits Shelves With a Roar
Iman, a world-famous supermodel, and activist launched her first perfume, Love Memoir. Love Memoir can be found on HSN and HSN only, at least for now.
Love Memoir is a tribute to her late husband, rocker David Bowie. Bowie passed away after a battle with cancer in 2016. The bottle represents the sunsets she and Bowie loved to watch as well as her African heritage.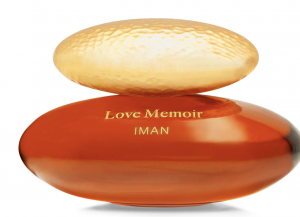 Iman feels that her creation of Love Memoir helped her with her grief struggles following Bowie's passing.
"I found by creating this fragrance, remembering David and being in the house, it just somehow eased my grief," she said. "And I came through it."
"There is an alchemy and magic to it," she continued. "I put in the woodsy vetiver that reminds me of David and the cologne he wore the night we met, and then the bergamot of Tuscany, where we were married."
Iman believes that Love Memoir shares attributes of both herself and Bowie.
Bowie was a staunch supporter of Iman's legendary work in the fashion industry. She believes that Love Memoir will carry on Bowie's tune in an afterlife sort of way.
"My love memoir lives because I live." Iman writes on an Instagram post.
Love Memoir is sure to be a popular perfume given Iman's brand name and stellar reputation in the fashion industry. In addition, she's designed successful cosmetic lines in the past.
Bowie and Iman have one daughter named Alexandria Zahra Jones.