Gucci A Reason To Love Review: Pricing, Samples, Scent, and More
Gucci is a world-wide fashion brand that's known to everyone. In other words, Gucci needs no introduction, or so we hope. Gucci makes everything from clothing to fragrances. Anything Gucci produces gets eyeballs and in the case of A Reason To Love, noses, by default of the brand's extreme reach. But is A Reason To Love any good? We'll review it for scent, pricing, and much more. You can find our Gucci fragrance samples here.
A Reason To Love Review – Getting Started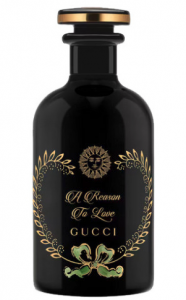 A Reason To Love is a genderless fragrance that falls under Gucci's The Alchemist's Garden's line. Gucci launched A Reason To Love in 2022, making the fragrance a relatively new venture. But again, it's Gucci, and their consumer reach is widespread and deep.
Acclaimed perfumer Alberto Morillas is credited with creating A Reason To Love under the direction of Gucci's creative director, Alessandro Michele. Morillas is a master perfumer credited with one of the most popular fragrances in the world, CK One. Interestingly enough, CK One is also one of the more popular genderless fragrances which is meaningful given A Reason To Love also falls into the genderless classification. He is also credited with Marc Jacobs Daisy and Acqua di Gio.
You'll find A Reason To Love in 100ml bottles. We are working on obtaining A Reason To Love samples, but as of now, we don't have them. This is due to how new the fragrance is. We anticipate getting A Reason To Love samples in the coming months.
A Reason To Love's bottle is a stunning and sleek black design. This is consistent with all bottle designs deployed in The Alchemist's Garden's line which features a variety of colors. It boast a bit of a modern, contemporary appeal that doesn't corner itself in any gender classification. It's a great gift idea.
The bad news with A Reason To Love is the ultimate costs. Before you finish this A Reason To Love review, understand, you'll pay around $600 for a bottle if not more. This stuff is pricey, to say the least.
What Does A Reason To Love Smell Like?
Morillas uses damask rose, cardamom, and peony at the top notes which highly influence the rose, floral opening. In the middle, you'll experience more damask rose and agarwood. The use of damask rose (or any note) in the top and middle is unusual in the perfume world, but for Morillas' purposes, in wants the rose to carry through well beyond the opening.
A Reason To Love delivers a warm, sexy scent throughout the experience. We'd classify this scent as rich and sometimes, luxurious, depending on your interpretation of such.
This is a swanky experience and it last for hours, if not an entire day.
A Reason To Love Commercials
It appears Gucci only advertises A Reason To Love as part of a broader campaign which features all The Alchemist's Garden's line. Its a swanky, theatrical film-like campaign that's soft on the eyes and classical in both music and setting.
Final Notes
A Reason To Love is a beautiful genderless rose fragrance. But the heart stopping $600 price point is difficult for many to justify. There's a lot of other options out there that are comparable, including Armani Rose d'Arabie and Jo Malone Velvet Rose & Oud, both of which are much less costly experiences.