Versace Eros Review – Seductive, Mature, and Exciting Stuff
Versace Eros is a popular men's fragrance that's both sexy and mature. Although it has a reputation as a clubber fragrance, we believe that the expression of notes reveals more a mature man's scent.
Our Versace Eros review will look at its smell, the nose behind it, and the alluring advertising campaigns.
Let's get started.
Versace Eros Review – Let's Get Started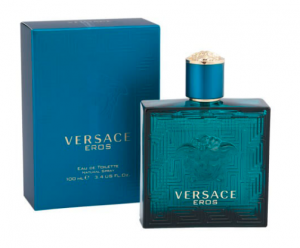 Everyone knows Versace.
His biopics and feature stories continue to rule media. He's a fashion icon and legend. And his 2012 Eros perfume is a staple of his fragrance endeavors.
Aurelien Guichard helped Versace craft one of Versace's most popular men's perfumes.
Educated at the famous Givaudan Perfumery School, Aurelien holds credits for roughly 150 perfumes. He's worked with Burberry, Tommy Hilfiger, and Giorgio Armani. Initially from Grasse, his family worked in a business trading roses. His father, a perfumer himself, helped guide Aurelien to become one of the world's elite perfume noses.
Aurelien's Eros fragrance is an aromatic Fougere blend. It features a number of notes, some popular, some lesser-known.
Eros as a perfume intertwines with a Greek mythology theme. The goal of Eros is to unleash your inner passion.
By the way, we carry Versace Eros perfume samples for those who merely want to test the waters. Buying perfume samples can be a wise way to hedge your bets and save money.
What Does Versace Eros Smell Like?
"Eros is truly the DNA of the house of Versace"

Donatella Versace
Let's begin with Aurelien's notes to compile this popular men's fragrance.
The top notes are arranged using mint, lemon, and green apple. The middle notes leverage ambroxan, geranium, and tonka bean. We find Virginian cedar, atlas cedar, Madagascar vanilla, and oakmoss in the base notes.
Eros comes off as a summer fragrance with minty, zesty notes popping upon the first spritz. The mint and lemon exude an initial liveliness. The base notes balance the initial zest, evolving the fragrance into a more mature appeal. While some people feel Eros is a "clubber, partier" fragrance, I vehemently (or respectfully) disagree. Eros is a mature men's fragrance.
Eros last for at least 5 hours, if not longer. So that's good longevity, though we've seen better out there.
Versace Eros Commercials, Advertising
Gianni Versace created a reputation for himself that was both bold and artistic. He held nothing back. All of this holds true in his epic Versace Eros fragrance commercial, which features snakes, James Bond-like sex appeal, dimly lit – contemporary rooms, and libido-inducing aura.
This Eros fragrance commercial is nothing short of steamy and pulse-racing. Going to be honest, I don't appreciate snakes one bit so I can only watch this commercial infrequently. But take nothing away from it's lure. Director Jonas Bertelsen outdid himself with this piece.
The Final Notes
Versace Eros is a sexy, flat-out seductive, men's fragrance. Although it has a reputation as a young nightlife-loving male fragrance, I'd classify it as a mature scent. It's fun but bold, much like Versace's life. We have Versace Eros perfume samples for those interested in trying some.