Ariana Grande Cloud Intense Review – Does It Get Better?
Ariana Grande Cloud is one of the more popular perfumes out there. So it stands to reason that Cloud Intense would get a bit of a lift (pun intended). If you are interested, we have an Ariana Grande Cloud review. But today, we are talking about Ariana's second installation, Cloud 2.0 Intense.
Let's have a more complex look at her second addition to her perfume line.
Ariana Grande Cloud 2.0 Intense Review – What To Know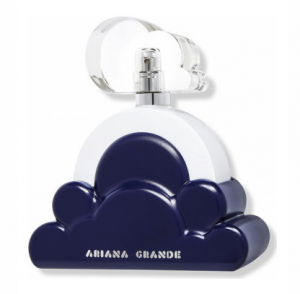 Cloud 2.0 is a limited edition perfume by pop star, Ariana Grande. It is unclear who the main nose behind Cloud Intense is, but we suspect Ariana has a team of top perfumers on staff given the extreme success of her first perfume.
Ariana's name sells perfumes, there's no doubt about that. However, both Cloud and Cloud Intense are considered quality perfume experiences. In other words, she isn't just riding her brand name. Both fragrances stand alone.
Is Cloud Intense Available in Samples?
Indeed, we carry Ariana Grande Cloud Intense samples. Perfume samples are an excellent way to try a perfume without investing in a full bottle. In this case, a full bottle is near $130. 
What Does Cloud Intense Smell Like?
Sweet, and wholesome. That are the two immediate words that come to mind when you smell Cloud Intense.
In the top notes, we find bergamot, pear, and lavender.
In the middle, there's coconut, whipped cream, praline, and vanilla.
In the base, we discover musk, cashmeran, ambroxan and other woody notes.
Cloud and Cloud Intense are similar in smell, but not entirely.
Cloud Intense offers a richer experience than Ariana's original Cloud. That's either good or bad depending on what you are looking for in a perfume. Original Cloud is a more fresh-like experience, while Cloud Intense brings more depth. From a high-level perception, the OG is a strawberry covered lightly in chocolate, while Cloud Intense is a rich dark chocolate bar. Cloud Intense is more of a musky, woody experience, hence, the deeper, richer body.
Ariana Grande Perfume Commercials
The pop star leverages her singing talents alongside her rock star appeal for a number of commercials. And they all rock. At times, she uses cartoons to convey her scent messages. Overall, the pop star uses media brilliantly to sell her fragrances as we'd expect her to. Link here.
Conclusion
Ariana Grande's Cloud 2.0 Intense is a richer, muskier addition to her original Cloud. Like its predecessor, it's wildly popular and although it is a celebrity perfume, the fragrance is complex and thoughtful.