Baccarat Rouge 540 EDP Review – Is It Right For You?
There's saffron, ambergris, amber wood, and cedar, oh my! Our Baccarat Rouge 540 perfume review will help you decide if this perfume is for you. Before we get started, I should note upfront, Baccarat Rouge 540 makes our best perfumes for women list.
But hey, that doesn't mean it works for you. With so many perfume samples to choose from, it's essential to try out a variety before deciding on that everyday wear. If you want to check out Baccarat Rouge 540 directly and skip the review, go for it here – Baccarat Rouge 540 Perfume Sample.
Otherwise, let's get started.
Maison Francis Kurkdjian Baccarat Rouge 540 Eau De Parfum.
That's the longwinded, official name of one of the world's most sought-after women's perfumes. A fancy name, Baccarat Rouge 540 certainly lives up to the billing.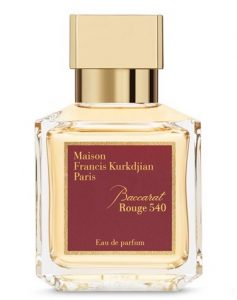 Baccarat Rouge 540 offers a "juicy" fragrance experience, featuring jasmine, saffron, and cedar (its base) notes. It's airy and brings about a sense of cleanliness when applied. Its fresh fruity note overtones hardly rip the nostril's linings; instead, they offer a sense of sweetness in proximity.
In other words, Baccarat Rouge 540 isn't in your face; it's a backdrop, a subtle inspiration. And that's what you want in a perfume. Of course, any perfume can achieve fruity notes, but avoiding the noxious experience remains the key to longstanding success.
What Does Baccarat Rouge 540 Smell Like?
There's a lot of wood in the smell, and this helps rouse up some spice. Baccarat Rouge 540 pops, if you will. While good perfumes smell good, legendary aromas evoke and inspire a mood. The Baccarat Rouge 540 experience is alluring.
This Amber Floral fragrance came to market in 2015, making it a newer fragrance than what we usually see listed on our top perfume page. That said, a handful of years demonstrates that this perfume stands the test of time.
Bucking a modern, corporate trend that often relies on a team of olfactory experts, Francis Kurkdjian handcrafted Baccarat Rouge 540's fragrance notes. This perfume is personal, and that's likely a heavily contributing factor to its meteoric rise to success.
How Long Does Baccarat Rouge 540 Last?
At least 10 hours, if not more; That's all relative, of course, as it should begin to fade between 6 to 8 hours. That said, Baccarat Rouge 540 outlast most of its competition.
If you apply Baccarat Rouge 540 in the morning prior to work, you still smell eloquent and expressive at happy hour and through dinner. Right about the time your head hits the pillow, a fade begins.
Your Baccarat Rouge 540 lasts throughout the day, through both work and leisure hours. That's impressive.
Baccarat Rouge 540 is a top perfume for women. Its personal, handcrafted fruity compilation and long-lasting aroma give any and all women's perfumes a run for their money.
You can't go wrong with Baccarat Rouge 540. Try a Baccarat Rouge 540 Perfume Sample.