Burberry Her Review – Elegant, Sexy, Fruity Fun
In our Burberry Her review, we take a look at one of the most popular and often top perfumes for women. Burberry Her is a fruit-laden, energetic fragrance. It may motivate you to dance or flirt a bit more than usual.
For many women, Burberry Her remains a staple in their perfume lineup. And rightfully so, it's a high-quality fragrance. That said, no perfume is right for everyone. So it stands to reason that you should either read this Burberry Her review entirely, or snag a Burberry Her sample.
May the odds forever be in your favor, always, my fragrance lovers. 
Burberry Her Review – What's This Perfume All About?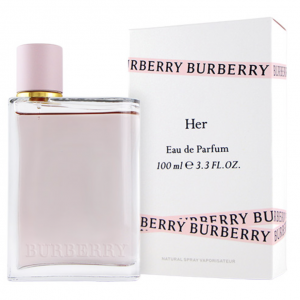 Fruit. That's the main course with Burberry Her.
Launched in 2018, Burberry Her remains a relative newcomer to the highly competitive perfume market. Often, we like to see a perfume's continued popularity over the years to help us assess its value to the market. In this case, Burberry Her has proven itself in only a few short years.
Expert and legendary perfumer, Francis Kurkdjian, created Burberry Her. Although his most famous fragrance creation remains Le Male for Jean Paul Gaultier in 1995, he's certainly proven his nose for women's perfume, including some of the top women's perfumes, over the years. 
What Does Burberry Her Smell Like?
At the top of all Her notes is Strawberry, Raspberry, Blackberry, Sour Cherry, Black Currant, Mandarin Orange and Lemon. As we said prior, Burberry Her runs heavy on the side of fruity notes. However, it's not a shy fragrance by any stretch. With some lower base notes that consist of jasmine and musk, Burberry Her "pops" and "shimmies" its way into the noses of those nearby.
Kurkdjian wanted to use these vast fruity scents as a way to depict an energetic, young vibe. Burberry Her is a fragrance a woman puts on when she's ready to let go a little and maybe dance.
"Her Eau de Parfum by Burberry is unique because it is a memorable signature. To achieve that, you need a strong accord, an olfactory story that translates your vision. The combination of these sunburst berries and British spirit blended with the ambery musky accord brings this very unique signature. You can immediately recognize when someone is wearing it. It is a signature scent." Kurkdjian once said of Her.
The strawberry in Her is the most potent part, but it's also the most fleeting. Meaning, you catch a lot of strawberries a couple of hours after the first spritz, but it does fade into a more baseline fruity experience. And that's fine.
In some ways, Burberry Her's bubblegum'ish scent can turn a modern, sophisticated and working woman off because the scent may reflect that of a teeny bopper. But, again, this is a fair assessment. As we always say, you do you. Like any sugary perfume, the younger crowd likely gravitates towards it.
Burberry Her Advertising and Commercials – Cara Delevingne
Burberry uses model Cara Delevingne to push the youthful London vibe. I'm not sure that Her smells like the hip side of London as much as Burberry pushes the narrative in its marketing. But that's fine. Any perfume which features a lot of fruit is going to feel fun in its vibe.
Final Notes
Burberry Her is a fun spritz of life and energy. It's a superior fruity and sugary fragrance experience. That said, it holds a reputation as being a teen perfume more than a modern woman's perfume. It's essential to choose a scent based on what you enjoy, rather than by dodging stigmas, though.