Mon Paris Yves Saint Laurent Review – What Does It Smell Like?
Mon Paris by Yves Saint Laurent remains a top-selling women's perfume. In the end, Yves Saint Laurent consistently puts out high-quality fragrances. But where does Mon Paris fit in? Answering such deep questions is why we have reviews.
So without further adieu, let's get into this Mon Paris review.
Mon Paris YSL Review – The Basics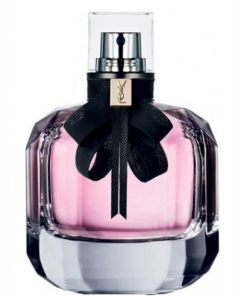 Yves Saint Laurent is a renowned French design company created by Yves Saint Laurent and Pierre Berge'. YSL operates out of Paris, and fashionably, it certainly shows. YSL brings to market fashion items such as shoes and jewelry and a fragrance line. However, L'Oreal owns YSL's fragrance company.
That said, YSL still brings its admirable qualities into its fragrances.
Dora Baghriche, Harry Fremont, and Olivier Crisp created Mon Paris as a fruity, energetic experience.
Mon Paris is available in 30, 50, and 90 ml bottles. We also have Mon Paris samples for those interested in trying it out.
The concept behind Mon Paris is freedom and love. Its designer bottle represents all things YSL with its black bow draping a pink, cut-glass bottle with a YSL logo flanked over the bow. It's beautiful decor for a powder room shelf.
But what does Mon Paris smell like? Should you try a Mon Paris sample or just go all-in on a bottle?
What Does Mon Paris YSL Smell Like?
The smell of a perfume is a subjective experience, by all accounts. That said, perfume reviews help us better understand if the fragrance is something we might enjoy. We aren't here to assume that you won't like a scent, but rather that it "smells like this" and "if you like these notes, you might prefer this fragrance."
That felt wordy, but I'm confident you catch my meaning.
Mon Paris opens with a spectrum of fruity notes, including strawberry, orange, pear, calone, tangerine, and bergamot. Immediately, you catch a "summer breeze" vibe. Next, you're intoxicated with a rich, delectable sweetness.
The middle and base notes do the job of neutralizing an overtly sweet experience. First, your olfactory senses will explore jasmine sambac, Chinese jasmine, peony, and orange blossom in the middle. Eventually, base notes like white musk, vanilla, ambroxan, cedar, and moss.
Overall, Mon Paris YSL is a gorgeous floral scent. The berry opening suggest it falls into that spring and summer sphere. Mon Paris is a potent scent that fills your space.
To enjoy the Mon Paris experience, one must prefer berries.
Mon Paris Commercials, Advertising Campaigns
Model Crista stars in racy Mon Paris commercial. Youtube doesn't allow us to embed their commercials, so here's Crista's Instagram.
Final Notes
Mon Paris YSL is a top women's perfume. In typical YSL style, Mon Paris dazzles with its fruity opening. Its a fun, vibrant fragrance experience that is perfect for spring and summer seasons.