Thierry Mugler's Alien Perfume Review: Simple, yet Potent
Thierry Mugler's Alien perfume is more than just a fun brand name; it's a popular women's perfume. It falls on the simpler side of perfumes because it is not overloaded with notes. Alien claims to spread an aura, but does it?
Read our Mugler Alien perfume review and learn more about this fragrance. 
Thierry Mugler Alien Perfume Review – Basics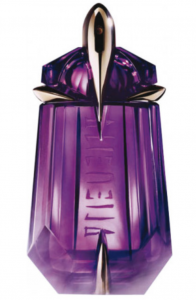 Dominique Ropion and Laurent Bruyere created Alien perfume in 2005. Ropion is considered a "perfectionist" in the fragrance industry, but he's also known to take significant risks with his concoctions. Frederic Malle's Portrait of a Lady is one of his more popular creations.
Laurent Bruyere's fragrance portfolio showcases 40 perfumes, including the popular Azzura and Amor Amor.
Alien perfume is a woody fragrance created for women. We classify Alien perfume as simple because it leverages a few ingredients, as you'll see in our next sections.
Alien Perfume Samples
Indeed, we carry Alien perfume samples. So if our Alien perfume review leaves you a little unsure, you can always give it a try.
What Does Alien Perfume Smell Like?
There's art in simplicity; believe that. Alien perfume uses three notes. The top note is Jasmine; the middle note is woodsy inspired, the base note is amber. The intention is to achieve warmth and woodsy in a streamlined manner.
The Jasmine pops immediately as it's unabated and unobstructed. There's so much Jasmine that it feels intoxicating to the senses. This is how simplicity works; there's nothing to impede it. Some may feel this is overpowering, but to me, it works. There's a projection of strength in Alien perfume as it rises from the skin.
While the woodsy effect helps tone the Jasmine down, the amber and Jasmine power never truly recedes.
Alien perfume jumps from the skin and fills the air. It's not subtle; instead, it insists you enjoy it.
How Long Does Alien Perfume Last?
Days on clothes. A full day and more on your skin. Alien perfume is long-lasting.
Alien Perfume Commercials
Alien perfume commercials go for the eccentric feel and vibe. I'd say, mission accomplished.
Final Notes
Alien perfume is a strong, potent amber/Jasmine fragrance. It lasts for days. Because the perfumers used few notes, Alien perfume hardly deviates from its fragrance path. In other words, you don't get a lot of versatility in opinions over what it smells like. Alien perfume is fun and energetic.