Versace Versense Eau de Toilette Review
Although not as popular as other Versace fragrances, our Versense review points to a rather unique fragrance experience.
Versace Versense is an Eau de Toilette. Go here to understand the difference between perfumes and Eau de Toilette.
Let's not get caught up in too many technicals, at least just yet.
All aboard, our Versace Versense review begins now.
Versace Versense Review – Let's Get Started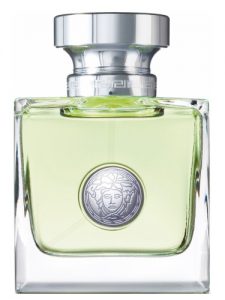 Versace Versense is a woody, citrus aroma. It's a women's fragrance.
Versace designers used a beautiful lime bottle expression to convey a summery vibe. The tropical, sunny feels run deep with Versense. Versace wouldn't be Versace if their perfume bottle weren't attractive. It's just the way Versace rolls, always fashionable.
Versace launched Versense in 2009. Being a Versace concoction, it's remained relatively popular over the years. Although, it's a lesser-known fragrance compared to many other Versace fragrances.
Can I Get Versace Versense Samples?
Indeed, you can.
Try our Versace Versense samples and give this fragrance a try. Using a perfume sample is a great way to lower your financial risk.
But even if you intend to pick up a Versense sample, you probably want to know what Versense smells like?
But of course, you do.
What Does Versace Versense Smell Like?
First, let's examine the notes used in Versense.
Perfumers leveraged a lot of notes, particularly on the top, in order to create this floral gem.
The top notes feature bergamot, green mandarin, fig, pear, and citrus.
Hanging in the middle, we find cardamom, narcissus, lily, and jasmine.
The base notes offer olive tree, Virginia cedar, musk, and sandalwood.
As you can see, the top notes are loaded with fruity splendor. And that's intentional as Versense unloads a fun and fresh citrus fragrance right away. You may even detect some coconut, although it's not officially listed.
Versense is very sweet up front, but eventually, the musk and cedar offer a semblance of balance.
Versense is a confident, gleeful experience.
The downside to a top-loaded scent is that the top notes fade in a few hours. So if you enjoy that fresh pop, you'll want to reapply.
Overall, Versense is citrusy madness. It's fun and cozy, perfect for a spring or summer afternoon.
Versense Commercials, Advertising Campaigns
Not much out there other than this commercial found on YouTube. It doesn't appear that Versace pushed Versense too hard. The commercial is short and sweet, sort of like the fragrance.
Final Notes
Versace Versense is a citrusy, floral fragrance for women. It's a lesser popular Versace creation, but its fun, summery vibe is a splash of fresh excitement. Versense's top notes wear off within a few hours, so you'll need to consider reapplication. We do have Versense samples if you'd like to give it a try without buying a full bottle.