Bachelor in Paradise Contestant Uses Pheromone Perfume. Does It Work?
The Reality TV craze has helped channel a world where absolutely nothing is seemingly too absurd. From the days of Joe Rogan's Fear Factor, where people ate bizarre, gut-turning foods to 24-hour surveilled houseguests, Reality TV offers us everything awkward in the world.
And that goes for perfumes (I use the term loosely) as well.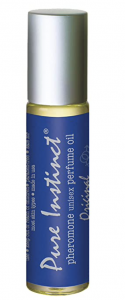 A Bachelor in Paradise contestant claims she uses pheromone perfume to attract the desire of the bachelor. In the show, over 30 girls vy for the attention of a single guy. Single, as in he's the only guy – and yeah, he's single and ready to rock. The show's female contestants have shown over the years a willingness to go to absurd distances to win the show's ultimate prize (that guy, errr… her personal media attention and branding).
Season 25's contestant, Anna, told host Adam Wells she applied the pheromone perfume oil and "hope it attracts men."
"I brought some pheromones, so we're just gonna dab that on and hope it attracts the men," she explained.
Anna scored a date with the show's ultimate male prize, James Bonsall. But it's unclear if these pheromones made any difference at all.
So what exactly is the point of pheromone perfume?
Anna used Pure Instinct's Pheromone Perfume oil, in case you are wondering. You can find it for less than $20 on Amazon. A massive TikTok viral campaign boosted this particular brand's popularity to the moon in 2021. It contains Androstenone and Copulin compounds, which scientifically are human pheromones.
You can wear pheromone perfume alone, or along with your favorite women's perfume.
But let's take a breath.
The thing with reality TV is that it's not, well, real.
The pheromone perfume oil is pretty to think about (hopefully, you appreciate my Faulkner reference), but it's not very legit. Pheromone perfume oil contains very little of these compounds, not enough to make any sort of difference. In other words, a man would hardly pick up on the compounds. There's hardly any science showing this stuff works.
But hey, whatever makes people feel better. So who am I to get in the way?