Tom Ford Black Orchid Review – Sophisticated, Spicy, But Right For You?
Tom Ford Black Orchid is a moderately popular women's perfume. Given Tom Ford is a big name, there are lots of Tom Ford Orchid reviews online. In our Black Orchid review, we look at the scent, the branding, and its reputation.
But Black Orchid is not for everyone. Read our Black Orchid review and see if this fragrance may be for you. You will probably smell floral notes filling in after a few hours. 
Tom Ford Black Orchid Review – Getting Started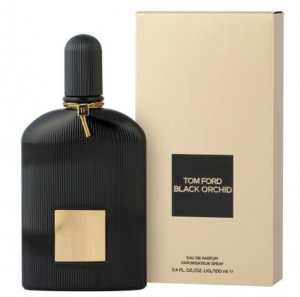 Tom Ford Black Orchid is a women's perfume. Before we get too deep in this Black Orchid review, I'll note that we carry Black Orchid samples. If you want to give it a try without much skin in the game, using a Black Orchid perfume sample is the way to go.
Givaudan, a reputable perfume company, crafted Black Orchid back in 2006. The perfumers called it an oriental chypre upon launch and it has been a wildly popular fragrance ever since. Without question, Black Orchid has withstood the test of a decade and a half worth of time. 
What Does Black Orchid Smell Like?
Black Orchid is considered a warmer, spicier fragrance experience. It entices the nostrils in a peppery way but without singing.
Let's look over the perfume notes.
Black truffle, black currant, and French jasmine are the hallmarks of the top notes. There's also a bit of citrus in the top notes, which opens up the nostrils, creating the warming effect.
In the base, you'll catch sandalwood, patchouli, amber, vanilla, and dark chocolate.
Does something feel missing?
Right, there's no actual black orchid in this fragrance. The perfumers aimed to create a rare orchid experience, hence the unique combination of scents.
Black Orchid's base notes give it an earthy scent that tends to deepen the longer the wear. There's also an effervescent pop of the nostrils right away, a result of the citrus. Black Orchid, by design and in reality, is a dark fragrance.
For the most part, I can't imagine anyone younger than 30 enjoying this refined fragrance. Black Orchid gravitates towards a sophisticated crowd. But at the same time, if you don't appreciate a muddy-type scent, you'll want to run far away from Black Orchid. 
How Long Does Black Orchid Last?
Black Orchid is a strong, powerful fragrance that lasts well throughout the day.
Black Orchid Commercials, Ad Campaigns
Sensual, feminine, yet an expose for the powerful, inspiring woman – that's the branding Tom Ford sought with it's Black Orchid ad campaigns and commercials.
View it here.
Final Notes
Black Orchids' muddy, earthy scent lends itself to the modern, sophisticated and established woman. Black Orchid is a potent, long-lasting fragrance that stuns the senses with its initial citrus effervescence. Deep florals and dark chocolate rise the longer one wears it.