Burberry Women by Burberry Review – A Floral Fruity Fragrance for Women
Burberry Women by Burberry is a popular women's perfume. Given its the namesake of a global and iconic fashion brand, expectations high. This is why we have perfume reviews, so we can separate hype from reality. In this Burberry Women by Burberry review, we'll look at price, what it smells like, how long it last, and even commercial appeal.
Burberry Women by Burberry Review – Getting Started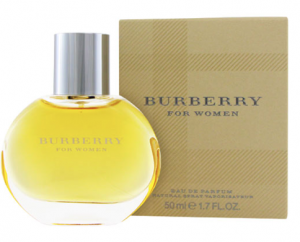 Last week, we reviewed Burberry Weekend; this week, we go straight to the heart of the brand's perfume line with its self-named Burberry Women by Burberry. In fairness, and as is evident, Burberry loves to leverage its name in its fragrances. So we're putting too much drama into this one particular scent. But building hype is what we do, no harm, no foul.
Perfumer Michel Almairac created Burberry by Burberry in 1995. It may be difficult for some of us to remember those days but let's call them simpler times. And how can we forget the advent of grunge rock?
I state these nostalgic items to lend a sense of perspective to how old Burberry Women by Burberry is. This means Almairac launched this perfume nearly 30 years ago when many of us were mere children or teens. 
That's a testament to the perfume's incredible success. Longevity is one of the core factors we look at when reviewing any perfume. While big brands can keep a perfume on the market for as long as they like, most won't, mainly when it means losing revenue.
Almairac has over 170 perfumes on market. Born in Grasse, France, in the 1950s, Almairac remains a resident of the French Riviera. He's a graduate of Roure Betrand Dupont, or the former Givaudan. He's one of the world's foremost perfumers. But that's obvious given his work with brands such as Burberry, where he has over eight successful perfumes. 
The Burberry Women bottle design features very Burberry attributes, including the simplicity and soft touch. It's not an overwhelming attempt at uniqueness, yet it exudes class and sophistication. We've seen some poor choices in perfume bottle designs over the years, but never from Burberry.
Burberry Women by Burberry Samples
Microperfumes carry Burberry Women by Burberry samples. Click the link to order a sample and try out this women's fragrance. You'll save money in the event this scent isn't for you. 
What Does Burberry Women by Burberry Smell Like?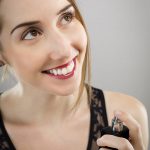 Burberry Women by Burberry is a Floral Fruity fragrance intended for women. 
At its top notes, we find peach, pear, apricot, apple, and black currant.
In the middle, we discover sandalwood, moss, and jasmine.
Almairac features cedar, musk, and vanilla in the base notes for balance.
The fruity aspect of Burberry Women, led by the dominant peach infusion, feels light on its feet. While the initial experience is super fruity, this is far from a teeny bopper scent. Like all things Burberry, Burberry Women remains refined through and through.
And although the base has musk, it never takes over. In other words, the fruity experience lasts for a while. Burberry Women lasts around 8 hours, making it a highly potent fragrance. This also helps save you money as it means fewer spritzes, less use, fewer bottles to purchase over time.
Burberry Women is soft around the edges and doesn't insist upon itself. This fragrance is a classic. But one must adore peach to embrace Burberry Women truly. 
Burberry Women by Burberry Commercials
The company rarely, if ever, advertises Burberry Women. Instead, the company opts to drive more ad campaign energy towards Burberry Her. Given Burberry Women has been around since the 1990s, this is no big surprise.
Conclusion
Burberry Women is a long-standing perfume success story. Its fruity notes, mainly led by pear, don't overwhelm; rather, it infuses your space with gentle beauty. Burberry Women is hardly a surprise given its outstanding reviews over the years. It continues to be a mainstay perfume on racks across the country.