Dolly Parton's Perfume Is Raking It In, Selling Out Everywhere
Everyone loves Dolly Parton. Sure, that's a sweeping statement, but we're confident it's a "none truer than" sentiment. Decades of loyal fan followings and record topping albums continue to build upon her legend.
But it may be her perfume, Scent From Above, that's serving as the apex of her fan brand loyalty. Parton launched her "playful floral" scent back in July and quickly became HSN's fastest-selling perfume of all time. Scent From Above sold out within days on HSN, stunning a perfume world nearly exhausted by celebrity fragrance attempts. But Parton's brand stood out, most likely because, unlike many celebrities, she's a trustworthy brand ambassador. At least, that's what we surmise over in these parts. Additionally, Scent From Above is good stuff (that always helps, right?).
The beautiful 3.4 fl. oz. size pink crystal bottle is so very Dolly.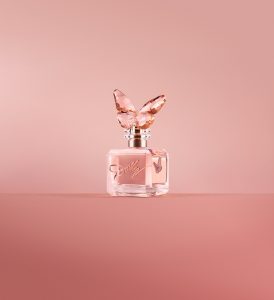 What else other than beautiful and elegant would you expect from a Dolly Parton perfume bottle? Dolly Parton's Scent From Above bottle gives me butterflies in the tummy! (Sorry, I couldn't pass it up).
Parton says Scent From Above is inspired by a number of her nostalgic childhood smells.
You'll catch pear, mandarine, and jasmine, among other scents, in Parton's fragrance. Parton describes Scent From Above as "cloud-like."
HSN continues to do a good job of restocking Scent From Above and we will let you know when we obtain some Scent From Above samples. We know you want those samples!