Galbanum & Rain by Clean – An Eco-Friendly Fragrance
Galbanum & Rain by Clean is one of the more popular fragrances for environmentally friendly scents. With a growing public concern for a reduction in footprint, eco-friendly perfumes continue to draw interest. Our Galbanum & Rain review looks at this perfume's environmental claims as well as the perfume itself.
Galbanum & Rain Review – Let's Get Started
Galbanum & Rain by Clean is a unisex fragrance worn by both men and women. Launched in 2018, Clean markets Galbanum & Rain towards folks looking for an eco-friendly fragrance solution.
While environmental formulas are a desirable attribute to perfume, they aren't without downsides. First, it is important to understand that fragrances that use environmentally friendly ingredients don't insulate people from experiencing allergies. Moreover, most perfumes use glass bottles, which leave fewer environmental footprints. Glass is fully recyclable. The same can't be said for cosmetic products which have a troubled environmental presence. Perfume environmental influencers revolve around a perfume's sustainability and overall life cycle. In other words, the eco-friendly nature of the perfume business is a complex matter not summed up by a few marketing attributes.
Please check our perfume samples to see if we have any Galbanum & Rain samples.
What Does Galbanum & Rain Smell Like?
Galbanum & Rain uses Sichuan pepper, star anise as the top notes. Galbanum and incense rise from the middle notes. Cedar, moss, clearwood, Haitian vetiver and patchouli rest as the base notes. 
You can view the Galbanum & Clean's ingredients description here: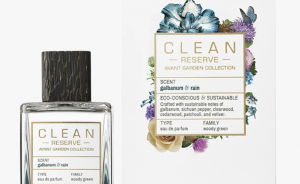 Galbanum & Rain truly exhibits itself as a unisex experience. There's a tinge of floral, but very understated and subtle. You'll notice what seems a cucumber aroma, although cucumber is not listed as a note. Expect the patchouli to pop immediately upon the first spritz.
The moss and vetiver come to life as Galbanum & Rain settle in.
The popular complaint about those who dislike Galbanum & Rain is that it smells "grassy" and "earthy." But in a way, that's not unintentional. Galbanum & Rain seeks to emulate a walk through a countryside pasture. It evokes a sense of rural America, but in a quaint, Hallmark movie way.
How Long Does Galbanum & Rain Last?
Galbanum & Rain last close to eight hours on the skin.
Galbanum & Rain Commercials, Marketing
Nothing notable.
Final Notes
Galbanum & Rain is an eco-friendly perfume solution for those who care about the environment. Its smell reflects that of the springtime countryside.