Jimmy Choo by Jimmy Choo Review – What's In This Luxury Brand Name Fragrance?
The Jimmy Choo brand is synonomous with luxury. Most known for designer shoes that impress the finest of guests, Jimmy Choo's fragrance also captivate an audience. From the pink, patterned box to the bottle's elegant diamond like cut, Jimmy Choo by Jimmy Choo is a top of the line fragrance experience. Hence, our Jimmy Choo review will most likely end pretty well. But, you'll need to wait and see. Or shall we say, read and see.
Jimmy Choo by Jimmy Choo Review – The Very Basics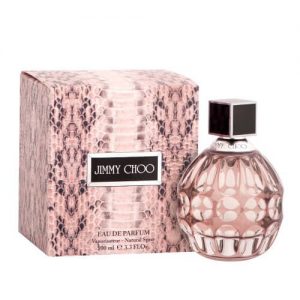 First, if you're not one to read lengthy reviews, we get it. You can go straight for the Jimmy Choo by Jimmy Choo samples. We got you covered. That said, it doesn't take all that long to give this a read so you at least get an idea if this fragrance is right for you.
First off, we are going to stop repeating Jimmy Choo's name. Its too much typing. So Jimmy Choo fragrance it is. The use of Murano glass reflects the cut of a diamond. Its truly beautiful.
Second, Jimmy Choo is a women's parfum. Hence, the pretty pink packaging and bottle. The packaging and bottle both reflect the elegance that is the Jimmy Choo luxury brand. That makes this fragrance a perfect gift for that special woman in your life. Even if she doesn't appreciate the scent, she'll adore the gift as an expression of how you feel about her. And it sends the message that you possess a refined taste. Although, be cautious, it also puts you on the hook for consistently buying luxury gifts.
Olivier Polge is the nose behind Jimmy Choo. We talk about him a lot as he's well-known for helping luxury brands produce amazing scents. His Chanel's No. 5 L'eau creation is one of the most famous fragrances in the world. Any fragrance attached to Polge is successful, including Jimmy Choo.
In Jimmy Choo, Polge says he wanted to create a "feminine yet empowering" scent. He did such with leaps and bounds.
Jimmy Choo hit the shelves in early 2011. Its available in samples, or 40 and 100 ml. You can also buy versions of the shower gel and body lotion if you so desire.
But hey, what does Jimmy Choo smell like?
Jimmy Choo, What Does It Smell Like?
In the opening, Polge used pear and mandarine orange. That's a fruity opening to say the least. In the middle, there's only orchid with the base notes featuring toffee and patchouli. Those base notes help tone down the powerful fruity opening.
In the opening, the pear is potent. What's awesome about that is that few fragrances leverage pear scent. So Polge's creation inserts itself as a unique creation. You might think of Marks & Spencer New York. That's about the only comparison we can come up with. Some people claim it is similar to Chanel Coco Mademoiselle, but we aren't sure about that. There's an intense flowery aspect to Jimmy Choo as well. Its lively, vibrant, and fun – but also very feminine at its core.
You'll also catch spice in the opening and throughout the fragrance experience. That spice blends in with the peppery notes found deeper in the notes. This is an absolutely stunning scent that doesn't overwhelm, yet sends a message of refinement and elegance to all those near.
Jimmy Choo fragrance works year round. Its perfect for a cool fall day, but also a lively option for a tropical night. Wear it to the club, or to dinner, it doesn't matter. This fragrance adheres to no boundaries which if you are a reader of the site, you know we rarely exclaim.
Jimmy Choo Commercials
Jimmy Choo has an advertising campaign attached to their namesake fragrance. And that's no surprise. Also not a surprise is that they feature their famous luxury shoes in the spot. The commercial is nothing short of luxurious and captivating and of course, sexy. This Jimmy Choo commercial is unmistakably a reflection of the Jimmy Choo brand's perception. Its hot, folks.
Final Notes
Jimmy Choo by Jimmy Choo is one of the top perfumes in the world. It's fruity opening is reeled in by a spicy base. Its luxury bottle design and packaging speaks to luxury at every instance. It's the perfect gift for that special woman in your life. There's an exotic vibe to Jimmy Choo, as well, that's both sexy and unrestrained. Its fun. And it can be worn at any occasion. The retail bottle price is actually pretty affordable at $42, but you can try Jimmy Choo fragrance samples if you don't want to take the risk. Whatever your jam, we get it.