Britney Spears Midnight Fantasy Review: Give Me More? Or No?
There's no question that Britney Spears is one of the worlds most popular and controversial pop stars. In fact, Britney is more than a star, she's an icon approaching legend status. She's made as much news for her top hits as she has for her legal woes and other controversies. But mostly, Britney is beloved by fans all over the world, particularly following her release from her dad's conservatorship. Britney, like many celebrities, leverages her status and social media followings to launch new products. One of those is a women's fragrance called Midnight Fantasy.
As our Midnight Fantasy review will show, this is a relatively affordable fragrance. But how does it smell? Would you like it? How much of Britney does this fragrance represent?
We can answer all of that and more in our review.
Midnight Fantasy Reviews: About Britney's Fragrance Creation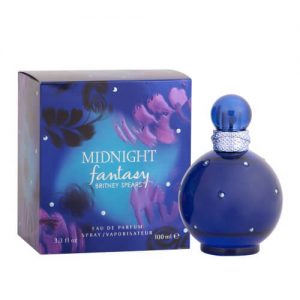 Britney's Midnight Fantasy comes packaged in a deep blue box. The bottle is also blue and evokes a spirit of a late, quiet night. The bottle is round and hippy and bubbly by design. Overall, it's presentable and unique in packaging and could make a good gift for someone more in the age range of early 20s.
Britney launched Midnight Fantasy in 2006 when she still appealed to a younger audience. Likely, she intended to market Midnight Fantasy towards that audience. That said, Midnight Fantasy remains popular. So popular that Britney claims Midnight Fantasy grossed $100 million. We wouldn't be surprised as all things Britney tend to more than exceed expectations.
This is a floral fragrance leveraging berries flowers.
While Britney is the celebrity name attached to Midnight Fantasy, it was actually famed perfumer Caroline Sabas who created it on her behalf. Sabas has over 40 perfumes to her name, including some by Calvin Klein, Avon, and Kim Kardashian. In fact, Sabas seems to appeal to celebrities looking for perfume creations, including Rihanna, Sean John, and Shania Twain. She certainly earned her reputation as a prominent, successful nose.
"The how and where fragrance is applied can also become an incredibly sensual ritual," says Givaudan perfumer Caroline Sabas. "An oil applied to the pulse points of the wrists or behind the ear can feel intimate and sexy, while a fragrance sprayed in a woman's hair can linger with an incredibly sexy trail as she moves."
For Britney, Sabas was the perfect match to create her popular Midnight Fantasy due to her experience working with other notable celebrities. Midnight Fantasy targets a younger audience, though over the years, Britney's popularity has increased with an older, more mature crowd who rooted her own in her legal battle with her polarizing father.
Britney continues to create risque content on Instagram.
What Does Midnight Fantasy Smell Like?
As we mentioned, Midnight Fantasy is a floral creation. Sabas used plum, raspberry, and sour cherry in the top notes. In the middle, she used orchid, freesia, and iris. The base notes deploy amber, musk, and vanilla.
There's a bubble gum vibe to the scent right off the bat, which makes it fun and vibrant. The raspberry pops immediately in the opening. We'd call Midnight Express a bit of a musky fruit once it settles down. The base notes do tone it down as the day wears on, but in a good way. It's pleasant and refreshing to say the least. Sabas, on behalf of Britney, didn't short-sell anyone. This is a quality perfume that is also extremely affordable at under $25 a bottle. And, as mentioned below, we have Midnight Fantasy samples consistently available.
Midnight Fantasy Samples
We currently have Midnight Fantasy samples in stock. Simply click the link and try out this popular celebrity perfume. In this way, you can try the perfume without sporting for an entire bottle. Wear it around and see how you enjoy it. If you don't, no big deal. If you don't enjoy it, let Britney know, we are sure she reads all of her fan mail.
Midnight Fantasy Commercials
Britney is one of the biggest pop stars in the world, so it should come as no surprise that her fragrance has a pretty high-end commercial. The "magic love arrow" strikes furious and hard in this dark themed melodrama that features a sexy Britney about to leave a man yearning for her so she can go on tour. Something tells me this is where fiction commercial meets celebrity reality. The story of Britney's past love life?
Final Notes
Britney Spears Midnight Fantasy is a fun and refreshing women's perfume. Its very berry and vibrant. It doesn't last a long time, but that's made up for with the affordable bottle costs. You can pick up samples from us if you like. We always have them in stock. Overall, Midnight Fantasy is a high-quality celebrity perfume that won't let you down. The sexy packaging makes it a great gift for someone in their early 20s. Or, for that super Britney fan in your life. And there are many of those today.