So Royal! Queen Elizabeth Inspired Perfume Launches
Queen Elizabeth is well-known for adoration of Floris London fragrances. In fact, she's a big fan of White Rose. When you're a Queen, smelling foul could cramp your style. She's been a Queen now for 70 years, she knows a thing or two about style. With her Platinum Jubilee 70-year celebration about to kick off, Floris London decided to embrace the Queen's love of their fragrances by releasing a scent in her honor.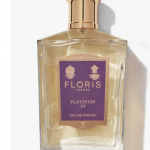 The Queen's approval of Floris London is so deep that the company is on the royal warrant list. That's rare air for any brand and a testament to the Queen's appreciation for Floris London. Moreover, Megan Markle has been known to flaunt Floris London fragrances, though we aren't sure if she does anymore, given the royal dramas.
Platinum 22 eau de parfum, as it's delightfully labeled, is a garden scent. Actually, according to Floris London, the woody fragrance is a note from the Queen's garden.
The woody scent is no accident, Floris London leveraged a series of earthy notes, such as cedarwood, musk, and rose. No, we don't currently have any Platinum 22 samples, but we're always working on it. Right now, we're just not sure if this is more a memorabilia experience, or a high-quality fragrance. Maybe, it's a bit of both. Only time will tell.
Expect to pay around $300 per bottle. Right now, it appears that Platinum 22 is only available in the UK in stores, but likely you'll be able to obtain a bottle online. Because, the Internet is completely awesome.
You can find bottles online on Floris London's website.
So if you're someone who desires a bit of royal scent, Platinum 22 may be right up your alley. But it is pricey at over $300 a bottle sans any associated shipping costs. You can also check our vast perfume samples and try something new. That's always fun.