Tommy Girl – A Review of an American Classic Fragrance
Tommy Girl is one of Tommy Hilfiger's classic women's perfumes. Without question, this fragrance kicks up our 1990s nostalgia (at least those of us old enough). For those born after the 90s, Tommy Girl now serves as a fabled fragrance vibe. When it comes to Tommy Girl, does the youthful, sexy vibes still flow? Or is this a dud now?
I'll spare you the drama. Tommy Girl is still a classic. And today, we'd like to take you for a stroll back into the 1990s. We think you'll totally dig it.
Read our Tommy Girl review. We've got the goods (and by 'good,' we mean answers).
Tommy Girl Review – The High Level View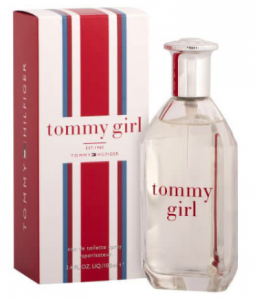 Tommy Hilfiger is one of the biggest brands in fashion. Its relatively affordable, but not cheap, and it places itself as a patriotic company. The use of res, whites, and blues, often wrapped in sunny, east-coast (think Hamptons) vacay imagery, is the hallmark of Hilfiger. That's not different with Tommy Girl, the feminine version that sits aside Tommy Boy.
Hilfiger launched Tommy Girl in 1996 and it immediately skyrocketed to the top of sales. Of course, Hilfiger helped its case by launching widespread advertising campaigns pushing the privileged lifestyle. Put on your Tommy Hilfiger polo, spritz Tommy Girl across your wrists, and jet set out on that fabulous lot on the most beautiful of days.
The Hilfiger narrative is of course, a bit disconnected with real-life. But that's the draw. The Hilfiger brand and Tommy Girl look align themselves as an escape from the doldrums of real life.
Calice Becker is the nose behind Tommy Girl. Today, Calice works for Givaudan of New York City. She's a well-achieved French perfumer who's name is linked to a vast amount of successful fragrances.
Calice created a floral fruity fragrance in Tommy Girl with some help from Stephen Nilsen. Calice's vision of a fun, peppy, youthful fragrance intertwined perfectly with the Hilfiger brand narrative. She was a perfect fit. And today, she's the nose behind one of America's most coveted old school scents.
Tommy Girl Samples
Good news for those who want to sample Tommy Girl – We've got Tommy Girl samples in stock. Trying samples means indulging in this famous wistful fragrance with much less risk. 
While getting a perfume sample at a retail store is helpful, its not the same as having the fragrance on hand and putting it to a real life test. Your life isn't a mall.
What Does Tommy Girl Smell Like?
Calice used apple tree blossom, mandarin orange, black currant, and camelia at the top. This translates to a rather fruity, energetic opening. The use of lemon, rose, lily, honeyscukle, grapefruit, violet, and mint, infuse some spicy layers. At the base notes, we discover jasmine, sandalwood, magnolia, leather, and cedar.
There's a pop of lily and violet at the opening that its a bit unexpected. The lemon zest rises as well, but not overly dramatic. In some ways, we might call Tommy Girl's opening as a floral explosion. It lights up the senses, but it is far from offensive. In other words, it works.
Tommy Girl is one of the stronger florals you'll try. It's feminine and refreshing. Like most things Hilfiger, Tommy Girl is built for summer weather. But that doesn't mean it isn't applicable when you want to zest up those dark cold winter days. Tommy Girl exudes energy and vibrance with each spritz.
Tommy Girl Advertising, Commercials
As noted prior, the Hilfiger brand aligns itself strongly with the pursuit of the American dream. It's a preppy brand and its fragrances are no different. During the 1990s, Tommy Girl / Boy commercials and magazine ads were as familiar as Seinfeld. If you were around in the 90s, take a trip down memory lane with these Tommy Girl commercials and ads.
Final Notes
Tommy Girl is part of Tommy Hilfiger's fragrance line. It's advertising campaigns push itself as American as apple pie. Throughout the 1990s, teens and young adults flocked to fragrance aisles to buy what was at the time, the hottest men and women's scent out there. Today? Well, times have certainly changed, but the iconic value of Tommy Girl remains with us. It's an old school throwback that looks to continue to stand the test of time.