Pasha De Cartier Review: How Is This Men's Fragrance?
Pasha by Cartier is a mens fragrance that's unintrusive to the senses offering clean and refreshing vibes. It's a top mens fragrance by a luxury brand that rarely fails to impress. From the Pasha bottle design to the compiled notes, this fragrance is a unique experience. But, is it for you? Should you try a Pasha by Cartier sample, or go for the full bottle? Or hey, maybe after reading our Pasha review, you'll opt to take a hard pass. Only you'll know what's right for you, so stick around and read our in-depth look at this popular fragrance.
Pasha De Cartier Review – Basics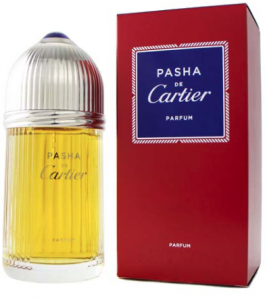 Pasha is a complex fragrance created by Cartier's own Mathilde Laurent. Mathilde, a well-known and achieved French perfumer, spend years working under Jean-Paul Guerlain. In 2006, she began her career ascent with Cartier and hasn't looked back. One of her most famous perfumes remains Baiser Vole.
Cartier leveraged a classic bottle design featuring ridges running down the bottle. The bottle's design appears Italian influenced in my opinion, but I'm no architecutre expert. However, I occasionally play one on Micro Perfumes. Others might note that the color scheme and bottle appear like a barbershop in the United States. Its all in what you see as design is subjective. Perfume bottle designs are important for more than marketing, but also for presentation as it gives curb appeal to the gift receiving experience. Cartier does a great job packaging up Pasha.
How Does Pasha by Cartier Smell?
Laurent deploys a number of notes, including sandalwood, patchouli, labdanum, fir balsam, tonka bean, benzoin, and ambrocenide molecule. Sound complex? That's because Pasha is a very complex fragrance. Without question, Pasha is a potent fragrance that you need to respect. In other words, don't overspray this one or you'll smell nearly offensive. Not because Pasha smells offensive, but because it's potency can overwhelm if over-sprayed. With Pasha, a little goes a long ways.
Pasha exudes a bit of a warm, deep scent. The amber smell is rich and defined right from the outset. There's lavender on top of the amber in the opening. A sweet version of Amber is used in Pasha's top notes.
The base, or dry down, features the sandalwood and some rum. The sandalwood lends a heavy density to Pasha. Another way to describe Pasha is rich.
There's nothing acidic in Pasha, rather, it's a well contained and smooth fragrance experience all the way around. Aside from being rich, Pasha is also mature. This is without question a gentleman's fragrance experience. Pasha also offers solid longevity, lasting a full day.
Pasha is a classy experience and the perfect gift for the refined man in your life.
Final Notes
Pasha by Cartier is a classy, sexy gentleman's fragrance. The bottle design is fun and packaged nicely for gifting purposes. Pasha is a great men's gift idea. It's warm, boozy scent exudes a wintery experience. Don't' forget to consider Pasha samples in the event you aren't sure if you want to go all in for a bottle.