Gucci Bloom Review – Potent, Long Lasting, Sexy
Gucci Bloom is one of the most well-known women's perfumes. Clearly, when Gucci releases a perfume, it's going to do well. There is a lot to love with this scent; we can break it all down for you.
Is Gucci Bloom right for you?
You can try a Gucci Bloom sample, or you can read this Bloom review and learn more. Or do both!
Gucci Bloom Review – Getting Started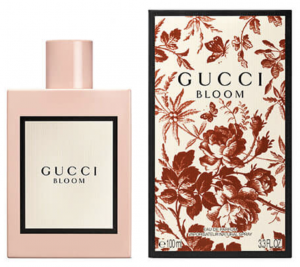 Gucci released Bloom in 2017. Famed perfumer Alberto Morillas crafted the top women's perfume. Gucci Bloom consistently resides on our top women's perfumes list, and rightfully so. Gucci historically puts out amazing fragrance products, so we'd expect the same from Bloom.
What Does Gucci Bloom Smell Like?
The top note is Rangoon Creeper, followed by Jasmine Bud as the middle note. The base note uses Tuberose. Overall, Gucci Bloom is a white floral experience at its heart. Gucci Bloom is a very feminine scent.
Upon the first spritz, the heavy floral, almost leafy scent erupts in the nostrils. It's potent right off the spray. You'll also catch some mandarin in the initial phase—the tuberose results in a cooling effect.
One of the unique aspects to Gucci Bloom is that this fragrance doesn't change much as you wear it. Instead, it holds strong to the original spritz. That's a big deal as most fragrances' top notes fade before the first hour is up, giving way to the middle and base notes. But in the case of Gucci Bloom, the middle and base notes project upon the initial spritz.
Overall, Gucci Bloom really hits the mark with this fragrance. You can wear it anytime you enjoy and it will add a subtle hint of beauty.
How Long Does Gucci Bloom Last?
Gucci Bloom lasts 10+ hours. Many users report smelling it in their laundry for days. Without question, Gucci Bloom is one of the industry's longest-lasting perfumes.
You can apply Gucci Bloom in the morning before work and find it's still hanging around for happy hour and dinner.
Gucci Bloom Commercials, Ad Campaigns
Anjelica Huston, Florence Welch, Jodie Turner-Smith and Susie Cave are the stars of a massive Gucci Bloom ad campaign. The commercial depicts a magical, fairy land'esq adventure that's also sexy and appealing. Its shot in a Franciscan convent, or "garden of dreams," using Mazzy Star's "Fade Into You" hit single in the backdrop.
It's high production level stuff that's pretty "feel good."
Final Notes
Gucci Bloom is one of the most famous women's perfumes available today. It's a white floral with a hint of minty that tends to open up the olfactory. It's incredibly long-lasting; you might find yourself smelling it for days. The fragrance holds true to its first spritz throughout the experience.
As per usual, Gucci puts out a top-of-the-class fragrance. Gucci Bloom is a profoundly feminine scent, so by no means is it considered unisex. We have Gucci Bloom samples available for those who want to try it out.